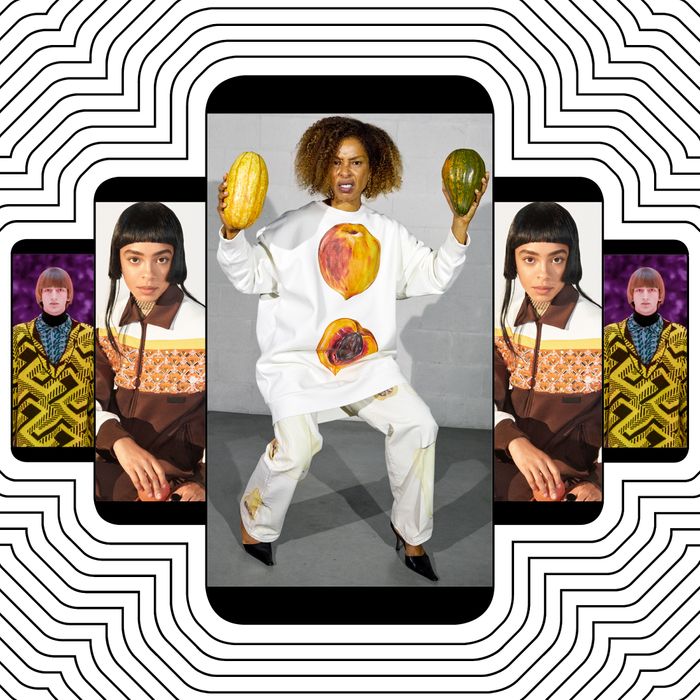 Photo-Illustration: by the Cut; Photos: J.W. Anderson, Miu Miu, Prada
Now more than ever, people are experiencing fashion through their phones. In "Screen Time," fashion writer Emilia Petrarca shares all the screenshots, double taps, and swipes she made this week.
Before the inauguration on Wednesday, I watched that video of Trump putting a piece of candy on the head of a child in an inflatable Minion costume one last time for laughs. I had the idea that reality might become less brain-breaking as soon as Biden was sworn in, but my mind was swiftly turned to mush again the moment Jennifer Lopez remixed "Let's Get Loud" with "America the Beautiful." Shortly after that, Twitter notified me that there was a new @WhiteHouse, and then I proceeded to fall so deeply into a Bernie meme hole that I lost all sense of direction. By Friday, I'd downloaded a free trial of Photoshop (someone please remind me to cancel that), only to crash my computer in an attempt to make my own Bernie meme. And by the time I finally posted it on Instagram, it seemed as though both Bernie and his fellow emphatic leg-crosser, Fran Lebowitz, had been deemed corny by the internet. Sigh. Another day in Joe Biden's America.
Looking back, the largest portion of my screen time this week was devoted to the Emhoff family. I needed to know everything about our first Second Gentleman, specifically what it's like to be his ex-wife. (She seems cool.) I was also beside myself over the fact that Instagram brands like Paloma Wool would be entering the White House thanks to Ella Emhoff. Not to quote myself, but: The algorithm is in the building. I was up until 2 a.m. on Thursday parsing through the 700-something accounts that Emhoff follows, just so that I'm emotionally prepared for when Café Forgot inevitably pops up in D.C.
Below, my week in scrolling.
Things I'd Love to See Ella Emhoff Wear
By wearing a Batsheva prairie dress and Miu Miu coat to the Inauguration on Wednesday, Ella Emhoff granted all Americans the right to fantasize about their favorite niche Instagram brands and SSENSE-type designers making it into the Oval Office. Personally, I have higher hopes for her than checkerboard knits and psychedelic Paloma Wool pants (a style recently characterized as "avant-basic" by Emma Hope Allwood on Twitter). Let's think big! Beyond the Emily Dawn Longs and Lisa Says Gahs of the world, although that would be cool too. She's under less pressure to wear American designers (and she's already worn Thom Browne), so what about someone like Jonathan Anderson, who also appreciates craft? I can see Emhoff wearing this look from the designer's new pre-fall 2021 collection in the White House garden, can't you?
Or what about a knit onesie from the new Prada menswear collection?
She definitely shouldn't stop wearing Miu Miu. (No, this isn't her, it's Emma Corrin from The Crown.)
I'd put my money on Ashley Williams knits making it to the Capitol, but bonus points if they've got an anarchy symbol on them. (Emhoff could also maybe wear this Purell dress to a COVID briefing.)
It would be so cool if she wore a Chopova Lowena safety-pin skirt.
And of course, Eckhaus Latta knits. Talk about the new J.Crew cardigan!
At the end of the day, it seems most likely that she'll wear an Eckhaus Latta face mask, but a girl can dream.
A Niche Bernie Meme You Might Have Missed
Just when I thought I was out, they pull me back in.
A Tweet That Made Me Laugh Out Loud
Daily Average Screen Time This Week: 3h 2m
Down 10 percent from last week. Thanks, Joe!