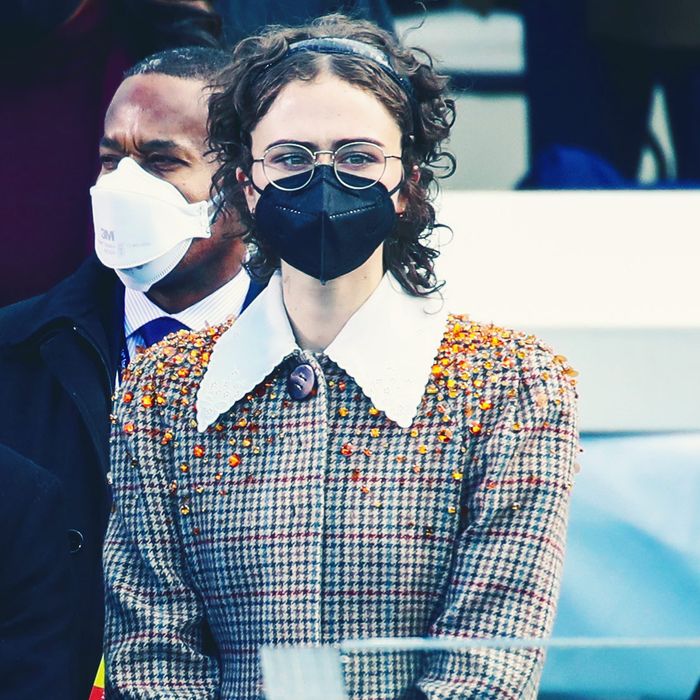 Photo: Rob Carr/Getty Images
Inauguration Day was a big day for model scouts, apparently. Last week, the National Youth Poet Laureate and Secretary of Statement Coats, Amanda Gorman, signed with IMG Models. Today, the company announced that it has also signed Ella Emhoff, the artsy 21-year-old stepdaughter of Vice-President Kamala Harris. During the swearing-in of President Joe Biden, Emhoff went viral on Twitter in a bedazzled Miu Miu coat and collar.
IMG represents big names from Bella and Gigi Hadid to Chrissy Teigen. Along with the rest of the internet, IMG Models president Ivan Bart was taken with Emhoff's display of fashion. He told the New York Times that brands are attracted to authenticity, and consumers crave it. "It's not really about shape, size or gender any more," he said. "Ella communicates this moment in time. There's a cheekiness and a joy she exudes."
Emhoff sees this as an opportunity not just to be a mannequin, but to show off her Bushwick weirdness and be a part of positive change as "an artist with a creative passion" (she's studying fine arts with a focus on textiles at Parsons School of Design in New York). She has her own knitwear line and regularly shows support on Instagram for slow fashion and the queer community, specifically posting about how to support and protect trans women.
"I've obviously got a bigger platform now, and I'm excited to share a lot of things I really care about, and do some good," Emhoff told the New York Times. "There are a lot of people out there that need a lot of help. If I can do anything to help with that, I want to, and I think this opportunity will be really beneficial toward that."