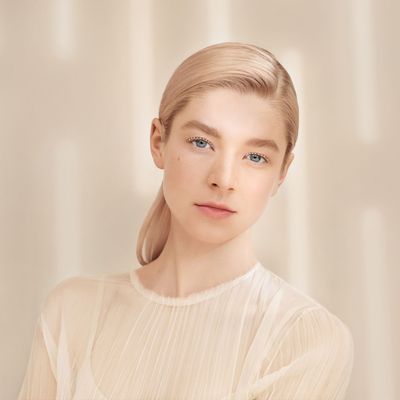 Photo: Courtesy of Shiseido
Hunter Schafer will not wear a sweatshirt to your Zoom meeting. You'll notice the flames first — silver fingers, a foot long, undulating in the air, surrounding either side of her face, thanks to a tentacled Yohji Yamamoto blouse. "It's a suit with culotte bottoms!" she delightedly tells me.
Everything Schafer does is the ultimate expression of who she is, including her wardrobe choices, which vibrate at a slightly higher frequency than others'. (Frequency is a word she loves.) She's the star and co-writer of the latest Euphoria special episode, "Fuck Anyone Who's Not a Sea Blob," which aired last week on HBO. She's also the new face of Shiseido, and appears in her first campaign video for the brand, doing a sort of interpretive dance for its newest foundation product that somehow showcases the beauty of light and movement. The Cut talked to Schafer about high-frequency beauty, the catharsis that comes from expressing yourself, and Euphoria makeup-removal tricks.
How has your pandemic been?
My pandemic has been a journey. I was fighting it for the first few months, and then I gave into it and got a rhythm going, in terms of working and doing things that feel good for me. I've developed a beauty routine, like a lot of my friends, because we can't go out to events and feel glamorous or go have a night out and get dressed up. I've been putting on a full look for myself, doing my makeup and having fun with it.
Everything I'm wearing for my face is for something internal, like a Zoom, or it's just for me, and no one else is going to see it. It reminds me of the stuff I used to do in high school. I would do it for myself, to feel good or play. It's really fun, and a good reminder of why I love makeup.
What was your first experience with makeup?
I think my first experience was at a sleepover when I was in middle school. My friends let me get into their makeup. I remember going at my face with orange and red eye shadows and eyeliners, and I drew a flame or something. I accessed a part of myself I hadn't before.
It had me thinking about makeup more frequently. I felt good wearing it and really enjoyed it. When I'm in a character's makeup or costume, with acting, it's that much easier to get into it. I liked knowing that makeup could give me agency into finding a more confident and bolder part of myself.
You said in a statement about your partnership with Shiseido, "I want to bring more visibility to the notion that you can move beyond one beauty ideal or standard. I'm about leveling up and finding your own frequency in makeup." Why does the word frequency appeal to you and your beauty sensibility?
I use that word for a lot of things; I find it quite applicable. There are a million sound frequencies or light frequencies or light waves. With makeup and Shiseido, everyone has their own frequency, or way of radiating their own unique light. That's something that is really fun in the context of makeup. It's about channeling a frequency and becoming something, but also letting your own preexisting frequency shine through.
In some sense, foundation is thought of as covering. I like Shiseido's new Synchro Skin Radiant Lifting Foundation because when I am wearing it, it feels like I'm wearing nothing, so I don't feel like I'm being covered. I feel like it's letting me shine through. It's almost like moving the light around my face in a way that still feels like me, giving me a little glow or radiance, which is good.
How would you describe frequency to someone who isn't familiar with whether or not they've felt it?
I describe it as a vibe — a vibe you get from someone, like when you first meet them and before you exchange too many words. A lot of times when I meet someone who I grow to be good friends with, I can tell off the frequency and the way we interact with each other. I'm like, Oh, okay, cool, we are on the same page. That's the more human way to equate it.
What's something that is high frequency to you in makeup or beauty?
Looks that I feel like I've been able to illustrate or explore with — I'm not trying to look like a certain kind of pretty or like someone else. Even with eyeliner, I recently did a post on Instagram where I drew shapes near my eyes — a symbol in my community that I love and a sword, using this guy, the MicroLiner Ink Eyeliner. Just being able to have symbolism on my face, that feels cool.
You've also said that you use makeup to "bring something internal to the external world." What are you trying to bring out?
The way we feel on the inside changes every single moment, that's the human experience. There is a certain kind of catharsis or euphoria when how you feel on the inside is near or parallel to how you feel like you're presenting on the outside.
Maybe you wake up one morning and you're like, Today, I feel like a Mark Rothko painting. You can then think about re-creating that or channeling that in some way, maybe you're thinking about his paintings and the layers and layers of gorgeous colors and yummy surfaces. You can create that with makeup, mixing layers of colors or mirroring so you can radiate that.
This is a more technical question: We know a lot of the beautiful Euphoria makeup looks were labor-intensive. What did you use, or what was your routine to remove the makeup after filming?
It's not as complicated as putting the makeup looks on. But the Euphoria makeup team got me into using hot towels. After a long day of work and reapplying and reapplying makeup, we would just use a little towelette, microwave it for a minute, and then let it sit on my face and permeate all the makeup so I could wipe it off.
With anything remaining, we would remove it with a classic makeup remover and Q-tips and cotton pads. I would always, always moisturize after that and be ready to go — I use the Shiseido Essential Energy Moisturizer. I live by it. I use it all the time, in the morning, after I walk around outside when my face feels dry, and at night. That was basically the undoing of all the Euphoria looks.
Every product is independently selected by our editors. Things you buy through our links may earn us a commission.