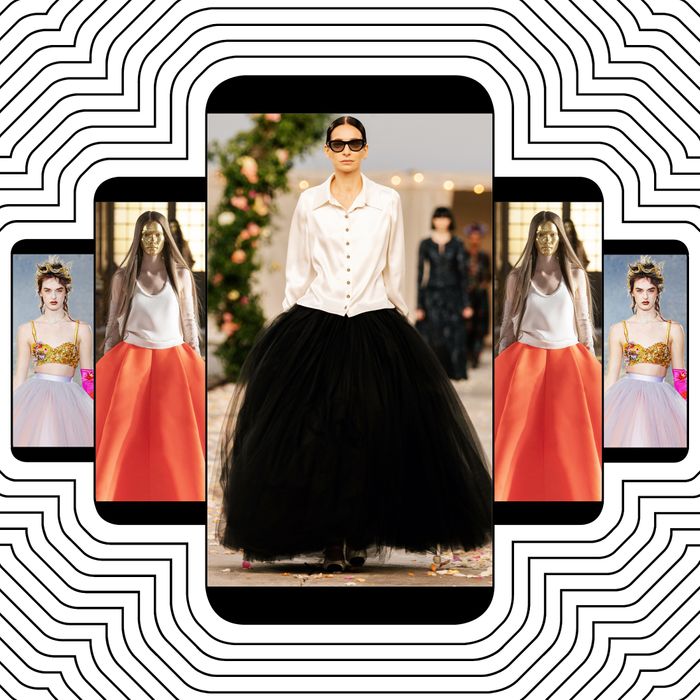 Photo-Illustration: by The Cut; Photos: Chanel, Valentino, Viktor& Rolf
Now more than ever, people are experiencing fashion through their phones. In "Screen Time," fashion writer Emilia Petrarca shares all the screenshots, double taps, and swipes she made this week.
This morning, I picked up my phone, saw that Dogecoin, a joke cryptocurrency, was trending and hit snooze for 15 more minutes. Then I texted a friend who'd invested in Dogecoin to see if he was suddenly rich, but he said he sold his shares before the Doge-boom because he thought it was irresponsible to invest in a joke. He would have a lot more change in his pockets right now if he hadn't, but he thinks he made the right choice.
That's pretty much the extent of my knowledge about what's happening with the stonk market right now. I'm trying to channel Pamela Anderson's sexy, peaceful anti-social-media mantra and "settle into life that I am genuinely inspired by." So, let's talk about investing in fashion instead. So much less superficial! Here's my report:
Ella Emhoff and Amanda Gorman's fashion cachet is at an all-time high. If you bought Birkenstock stock, GET OUT NOW. The RealReal's arrival in Brooklyn means that you should be trading all your Rachel Comey jeans and collecting as many $100 credits as you can before you pass Go. And as for trend forecasting, body-con's relevancy continues to climb. It also appears Carrie Bradshaw's famous tutu + tank top look is back. Yes, you heard it here first. Get in early! Buy low! If you don't know what any of this jargon means, ask one of these Thom Browne kids.
Below, my week in scrolling.
The Biggest Trend of the Week Is …
Carrie Bradshaw's tutu — the one she wears with a tank top in the opening credits of SATC. One of my favorite looks from the Chanel couture show was a simple black-tulle skirt worn with a relaxed silk shirt, which reminded me of it. Even though these pieces are couture, together they look casual, cool, and a lot more sophisticated than Carrie's getup. (Sorry, Carrie.) There was a similar look at Valentino, and another one again at Viktor & Rolf, so I can't help but say this is a trend. It makes sense: It's easy to wear but still feels like dress-up. I can totally imagine New Yorkers emerging from quarantine in the future and wanting to dress like this.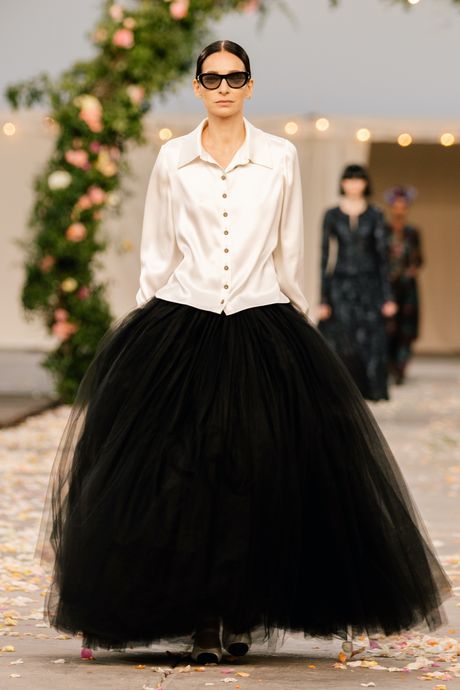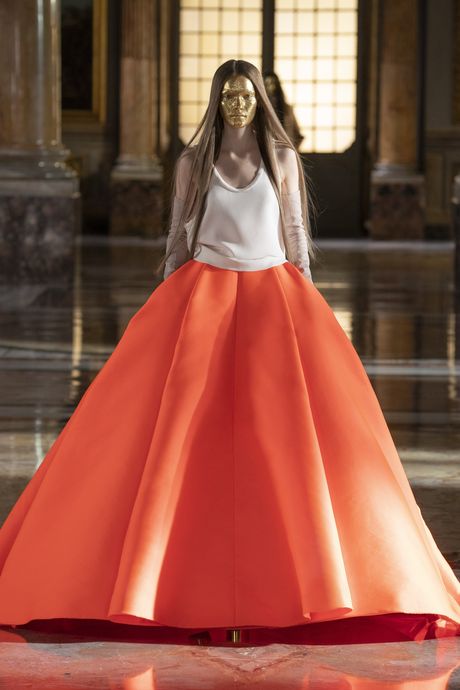 Speaking of Carrie Bradshaw …
This is a really good sweatpants + clogs look.
A Martini Bag to Match Your Tutu
Susan Alexandra misses drinking with friends. So she launched a Cocktail Collection with beaded bags in the shape of martinis, Cosmopolitans, margaritas, Champagne, and an assortment of wines. (There's even an orange wine necklace.) It's perfect timing: Pair your Carrie Bradshaw tulle skirt with a cosmo bag for the full effect.
Photo: Susan Alexandra
For every Martini Bag sold, Susan Alexandra will donate 10 percent of proceeds to ROAR (Relief Opportunity for All Restaurants).
A Cool New Way to Drink Coffee
This was Virgil Abloh's strongest Louis Vuitton collection to date. He worked with stylist and Dazed editor Ib Kamara (who you should follow, if you aren't already), and the combination of their sensibilities made for clothes that felt luxurious but also personal. It had character! One of my favorite details was a monogram leather coffee sleeve and cup — the most quotidian item turned into the most absurd luxury. That's always been Abloh's thing, but it seemed more subtle this time; more real.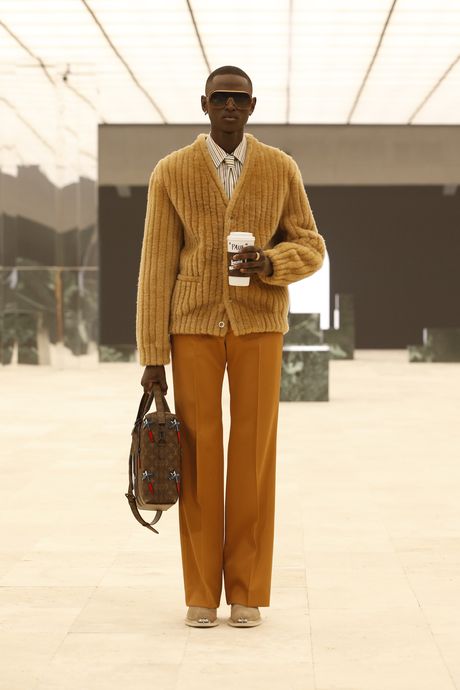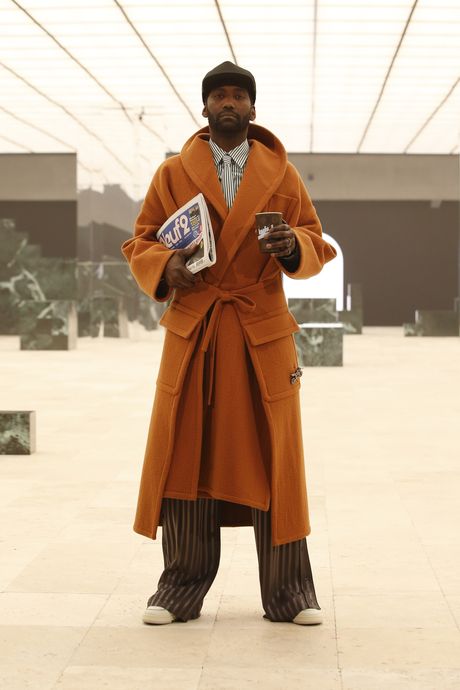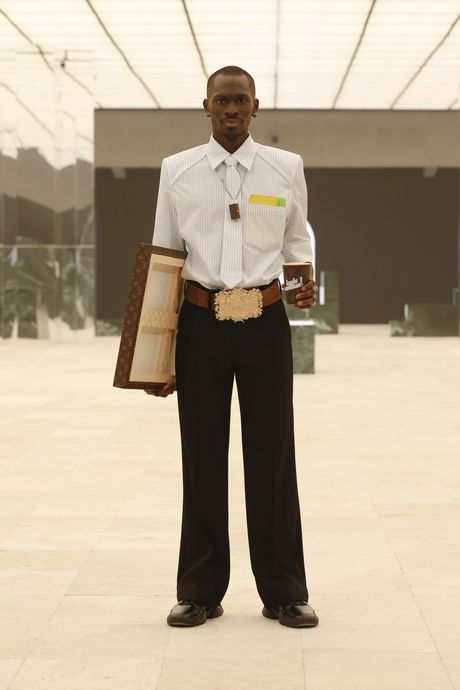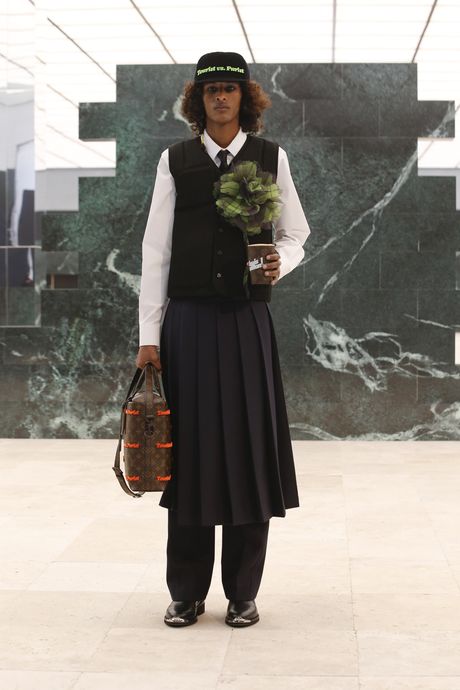 An Outdoor Dining Styling Trick
I can't believe I'm saying this, but it appears Jil Sander designers Luke and Lucie Meier have been inspired by The Rock. Instead of styling a silver chain around a turtleneck collar, though, they've added some jewelry to the outside of a coat. Let this inspire you to wear your pearls over your puffer, or a silk scarf, tied Boy Scout style.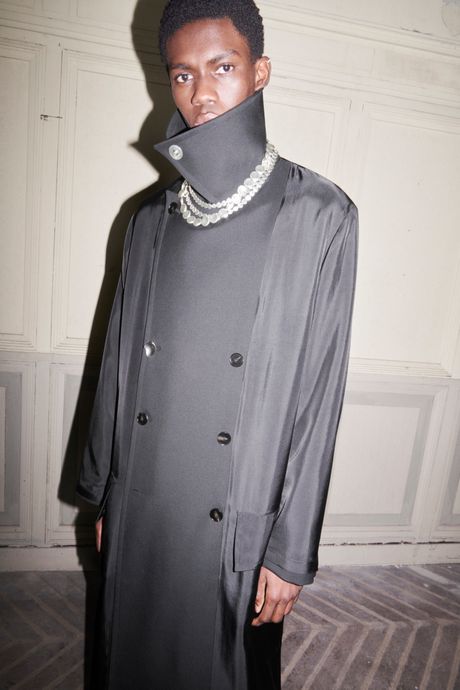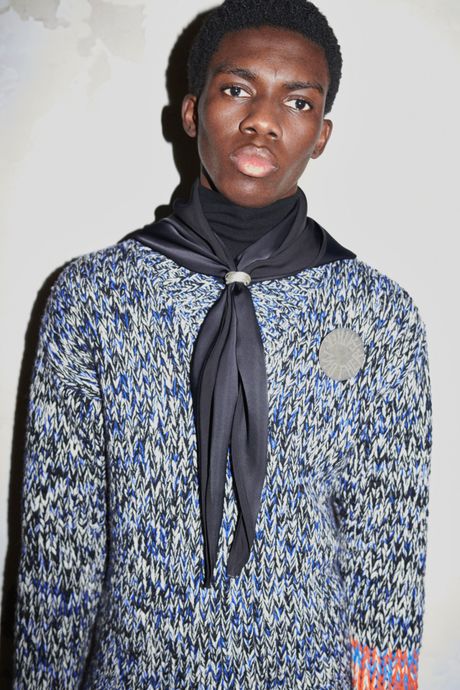 Some Honest Gorpcore
I love the new Eye/Loewe/Nature collection for two reasons: One, it was modeled by Omar Ayuso from Elite, who has the best unibrow in the business. And two, it is fully leaning into how over the top fashion's enthusiasm for outdoor gear is right now. This is me, bringing half my apartment with me on a "camping" trip. (Read: cushy Tentrr getaway.)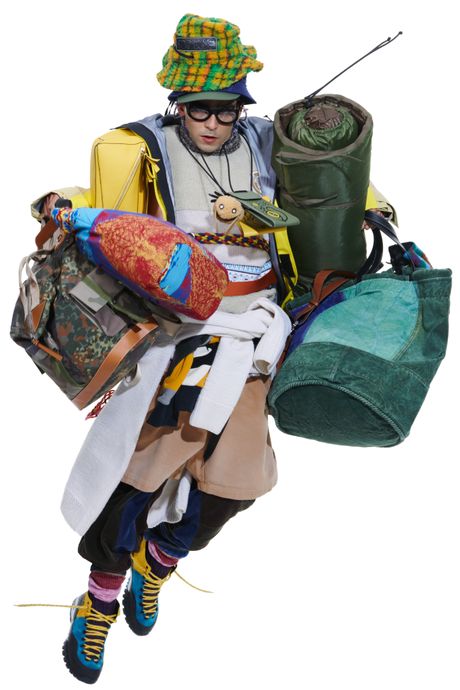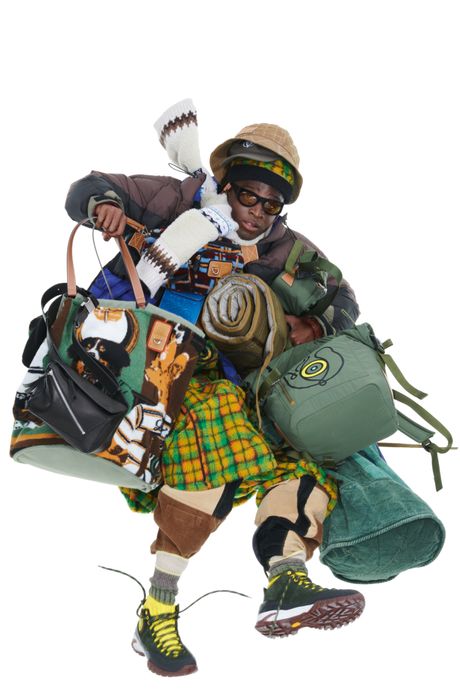 Two Words: Couture Clogs
Area just provided yet another reason to consign your No. 6 clogs.
A Posture Proposal
Grace Wales Bonner's new collection is just so full of, well, grace — something I'm so severely lacking in my life right now. In addition to fawning over the clothes (and the model on the left's haircut), I'm also inspired by the posture of it all. Just look the way the models hold their hands. They appear poised but also relaxed, a lot like the suits they're wearing. It's an energy that we've seen so many other brands try to embody this week (Chanel, Jil Sander, Valentino), but I like the idea that style can be a way of carrying yourself, too.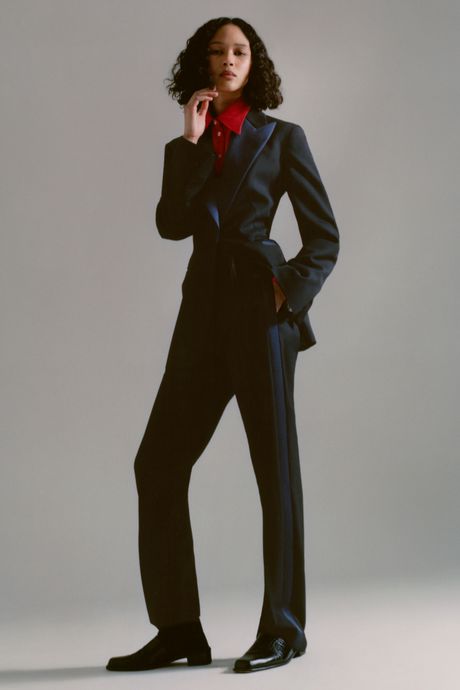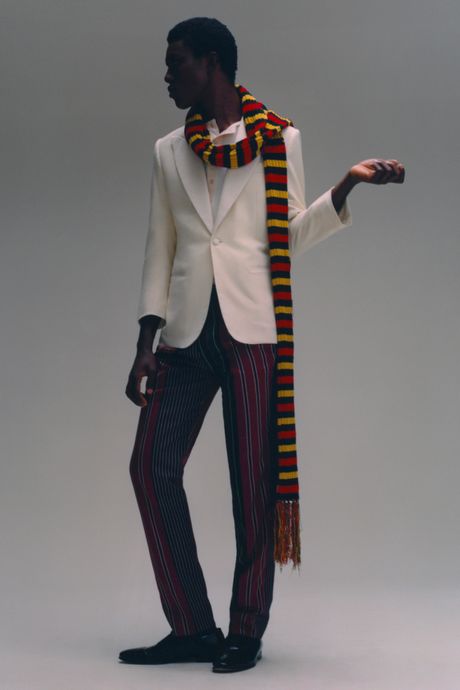 A Trend I Can Actually Get Behind
I finally opened my heart and mind to the Bachelor this week (my roommate has been trying to get me to watch for years), so it only follows that I would also welcome male hunkiness back into fashion again.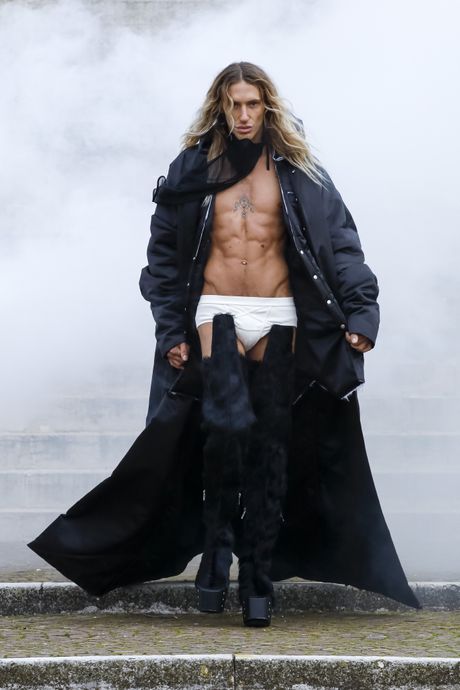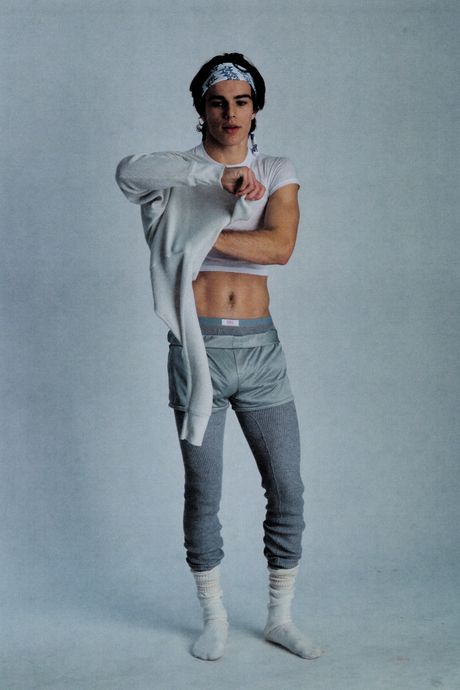 A Tweet That Made Me Laugh
A TikTok That Made Me Scream
Daily Average Screen Time This Week: 2h59m
Down only 8 percent from last week. Pamela Anderson would be so disappointed.