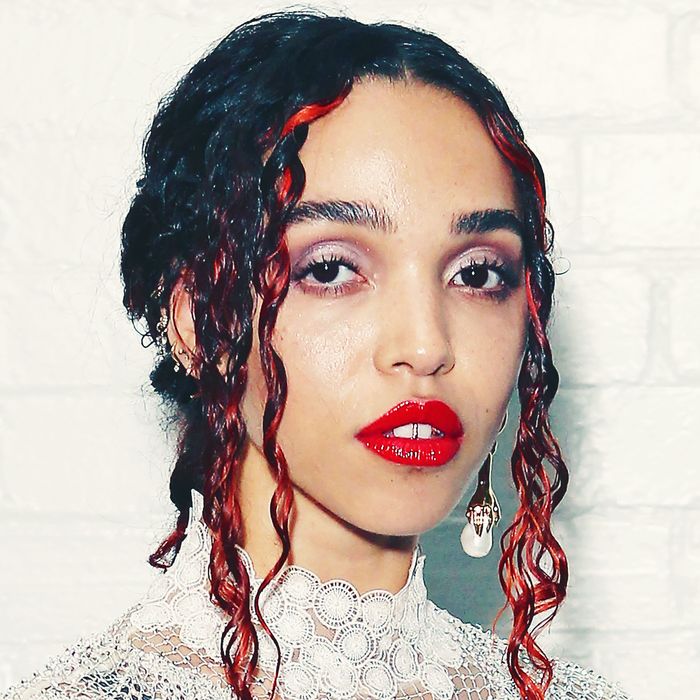 FKA Twigs.
Photo: David M. Benett/Dave Benett/Getty Images for Burberry
In December, FKA Twigs filed a lawsuit against her ex-boyfriend, actor Shia LaBeouf, outlining a pattern of physical and emotional abuse she says she experienced in the year they dated. In a recent interview with BBC Radio 4 podcaster Louis Theroux, the singer detailed some of the ways in which LaBeouf allegedly kept her trapped in the relationship and in his home.
In the beginning, she said, he cultivated "an intense honeymoon period," establishing "how brilliant things can be … if you behave well." And from there, he allegedly became acutely controlling: When it came to displays of affection, "I had a quota I had to meet, that would change," Twigs told Theroux. "It was like touches or looks or kisses," a specific number of gestures allegedly set at LaBeouf's discretion. "And I had to get the touches and the kisses correct. But I never … knew what the number exactly was," she continued. "His previous partner apparently met this number very well, so I was inadequate." When she fell short of his subjective standards, Twigs said: "He would start an argument with me, berate me for hours, make me feel like the worst person ever."
Twigs also recalled LaBeouf 's (alleged) jealousy: "Being nice to a waiter, or being polite to somebody, that could be seen as me flirting or wanting to engage in some sort of relationship with somebody else, when I'm literally just ordering pasta," she said. "I was told that I knew what he was like and if I loved him, I wouldn't look men in the eye. That was my reality for a good four months toward the end of the relationship, that I wasn't allowed to look men in the eye."
Her daily life became intensely "regimented" in other ways, too, she explained. Twigs told Theroux that LaBeouf would regularly wake her up before 3 a.m. and 7 a.m. simply to castigate her for a litany of imagined offenses, such as "staring at the ceiling and thinking about ways to leave him," she said. "He would accuse me of masturbating … [accuse] me of wanting to be with somebody else." For months afterward, waking up in the middle of the night "would trigger an intense panic attack," Twigs said.
Much of what Twigs discussed in this interview, she also mentioned in her lawsuit. There, she noted instances of physical violence: The time LaBeouf allegedly threatened to crash their car if she didn't tell him she loved him, then throttled her when she got out to leave; how she avoided using the bathroom at night, for fear he'd mistake her for an intruder and shoot her with the loaded gun he allegedly kept by the bed; how he allegedly drove around shooting stray dogs to get into character for a role. Responding to a New York Times report on the filing, LaBeouf said that, although "many of these allegations are not true," he is not "in any position to tell anyone how [his] behavior made them feel."
"I have no excuses for my alcoholism or aggression, only rationalizations. I have been abusive to myself and everyone around me for years. I have a history of hurting the people closest to me," he told the Times. "I'm ashamed of that history and am sorry to those I hurt. There is nothing else I can really say."
And, indeed, Twigs is not the only partner in LaBeouf's past who has attested to these types of behaviors. The costume designer Karolyn Pho added her experiences of the actor's physical violence and his purported drunken threats to kill her to the lawsuit. Sia subsequently called LaBeouf a "pathological liar." And, in 2015, LaBeouf was caught on video screaming at his then-girlfriend, Mia Goth, for supposedly engaging in "the kind of shit that makes a person abusive," then huffing about how, "If I'd have stayed there, I would have killed her" after the fact.
"I never thought something like this would happen to me," Twigs told Theroux, explaining her reasons for suing LaBeouf. "When I'm older, if I have a daughter, I want to be able to say, 'This thing happened to me. And I dealt with it.' It's a big thing to heal publicly and have to do it in front of everyone, but I can do it. I'm a big girl, and I can do it."