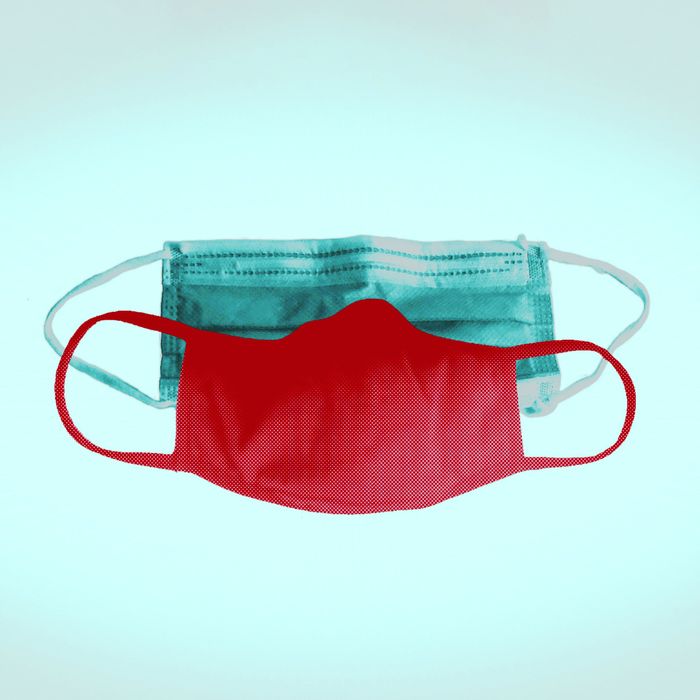 Growing research shows that two masks may be better than one.
Photo: Peter Hamlin/AP/Shutterstock
Public-health experts agree that one of the best ways to impede the spread of the coronavirus and to prevent avoidable deaths is to simply strap a facial covering over your nose and mouth. But even better than that, according to an updated mask guideline that's gaining traction in the medical community, is to wear two masks instead of one.
The practice, which has become known as "double-masking" and is supported by a growing body of research, is self-explanatory. Rather than donning just one face mask, you layer two on top of each other. Ideally, as two experts in virus transmission outlined in the science journal Cell, mirroring recommendations from other researchers, you'd wear a cloth mask atop a surgical mask. The former "provides an additional layer of filtration" and improves the fit, and the latter "acts as a filter." Together, the masks offer the public "maximum protection." (A quick reminder: The Centers for Disease Control and Prevention advises against using surgical masks more than once and recommends washing cloth masks "regularly.")
As Dr. Anthony Fauci, the country's leading virologist who recently endorsed double-masking, told NBC News on Monday, "If you have a physical covering with one layer, you put another layer on, it just makes common sense that it likely would be more effective." In the assessment of Dave Hnida, a family physician and medical editor at KCNC-TV in Denver, "Two masks may actually equal the protection you would get from N-95 masks, which is considered the best mask there is short of a complete respirator-type unit."
Now, perhaps the prospect of wearing two masks is daunting, which is understandable. As noted to the New York Times by Lindsay Marr, one of the authors of the Cell commentary, "We run the risk of making it too hard to breathe" with two masks. However, as medical-health experts have emphasized, not all scenarios call for double-masking. Joseph Allen, a professor of exposure assessment science at the Harvard T.H. Chan School of Public Health, told the Boston Globe that he would recommend double-masking if "you're going to the grocery store" or if you're an essential worker, whereas Dr. Dara Kass, an associate professor of emergency medicine at Columbia University Irving Medical Center, suggested the practice anytime you are "in a high-risk area and you are unvaccinated."
So, yes, if you are to follow the above recommendations, you'll likely find yourself double-masking quite a bit. But what's the alternative? The virus has already claimed nearly 420,000 American lives in under a year, and we're now facing new COVID-19 variants that appear to be even more transmissible. It is incumbent upon us to do everything we can to prevent it from inflicting more damage, however many masks that may take.