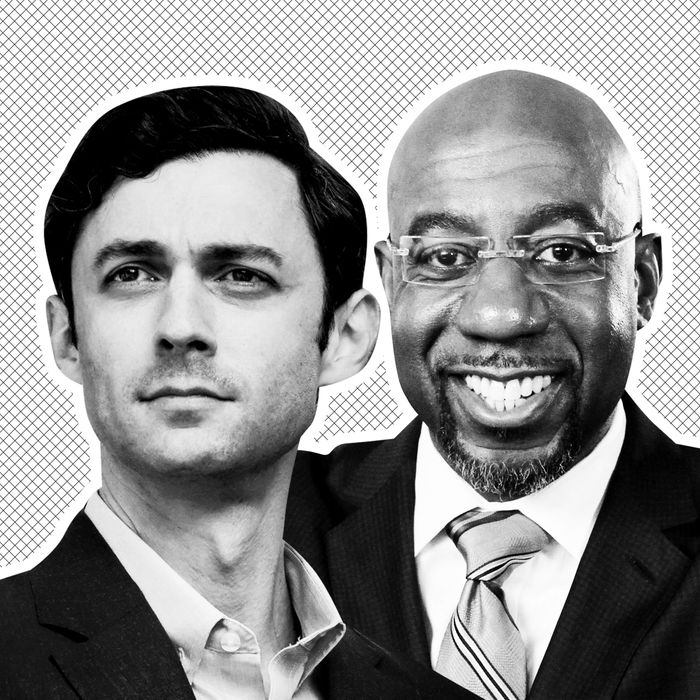 Photo: Jon Ossoff for Senate, Warnock for Georgia
Joe Biden is still the President-elect despite an onslaught of unsuccessful legal challenges, but ongoing races in Georgia will determine how effective he can actually be in office. The state's two January 5 runoff elections will likely decide which party controls the Senate — a vote that's currently deadlocked and will have a major influence on policy over the next four years. 
For Democrats, the only path to victory involves Georgians voting blue for both candidates. The races are between the incumbent David Perdue, a Republican, and his Democratic challenger, Jon Ossoff, while in the second, Senator Kelly Loeffler, also a Republican, is up against Democrat Raphael Warnock. Over the past few months, the four contenders have run aggressive campaigns funded by large donations that emphasize the high stakes of this election (Wall Street billionaires have given millions to support Republicans and more than $400 million has been poured into ads.) All are be eager to capture the vote in a historically red state that is supporting a Democratic president for the first time in 28 years (despite President Trump's recent deranged attempt to overturn those results). Here's everything you need to know about the races happening in Georgia:
What is a runoff election, and why is it happening?
A runoff election happens when no candidate gets 50 percent of the vote —the criteria for winning under Georgia law. In this scenario, the top two contenders must face off again. It's a policy rooted in racism and was created in the 1960s as a way to protect white political power, according to the New York Times. It would be a significant victory for Democrats, since the party has only won once in Georgia's seven runoffs since the 1990s.
It's unusual that there are two simultaneous Senate races in one state. But in addition to a normal reelection campaign (between Republican senator Perdue and Jon Ossoff), Republican senator Loeffler and Democrat Warnock are running in a special race to fill the seat of a senator who retired early due to health issues (Georgia's governor appointed Loeffler to the Senate last December, but voters will decide if she stays.)
In the first election, which involved three candidates, Perdue was slightly in the lead with 49.7 percent of the vote (compared to Ossoff's 47.9 percent). The second had 20 candidates: Warnock led by 32.9 percent compared to Loeffler's 25.9 percent.
Who are the four candidates?
The closest race involves two white men separated by a large age gap. Ossoff is a 33-year-old Democrat who has never been elected to office before, and Perdue is a 70-year-old Republican who has been a senator since 2014. His reelection strategy so far has been to tout past successes —like securing funding for Savannah's ports, building up the state's economy and disaster relief after Hurricane Michael, according to USA Today. Perdue is a staunch supporter of police departments, while Ossoff believes in reform and demilitarization. The Democrat has focused his campaign around a COVID-19 relief bill and expanding the Affordable Care Act.
The other senate race is between Warnock, a 51-year-old Black male Democrat and Loeffler, a 49-year-old white female Republican. Last year, Loeffler was appointed to take former senator Johnny Isakson's seat after he retired because of health issues (including Parkinson's disease and kidney surgery), but voters will decide whether she keeps the position until the end of his term in 2022. She is a Trump loyalist who opposes the Black Lives Matter movement, calls herself "more conservative than Attila the Hun," and has a record of siding with the president in 100 percent of her Senate votes (Trump unsurprisingly endorsed her campaign.) Warnock, a pastor who was endorsed by WNBA players despite the fact that Loeffler is part-owner of the state's team (Atlanta Dream), supports expanded health-care access, racial equality, and voting rights.
Who will likely win?
So far, the polls show that both races are a dead heat. While Georgia is normally a red state, it went purple in the presidential election following record turnout at the polls and a wave of Black voters who helped push Trump out. (Georgia's blue swing is in large part thanks to Stacey Abrams, who ran for governor in 2018 and founded two voting-rights organizations that registered 800,000 new voters and raised million of dollars.) But Democrats still face an uphill battle and if it weren't for the blowback against Trump, they probably wouldn't have a chance.
Though Warnock seemingly has a significant lead in the special election, the Republican vote was split between Loeffler and Republican representative Douglas Collins for a total of 46 percent (a 13-point lead on Warnock, according to the Washington Post.) And there's a good chance all those voters will get behind Loeffler, even if they didn't in the first race.
Perdue, the Republican, has 98,000 more votes than Ossoff, even though the latter got the most votes of any Democratic candidate in Georgia, according to the Post. But while the Democrats are at a disadvantage, they are hoping voters will turn on two senators who are so closely tied to Trump, and that the state's blue wave will continue to build in the runoffs.