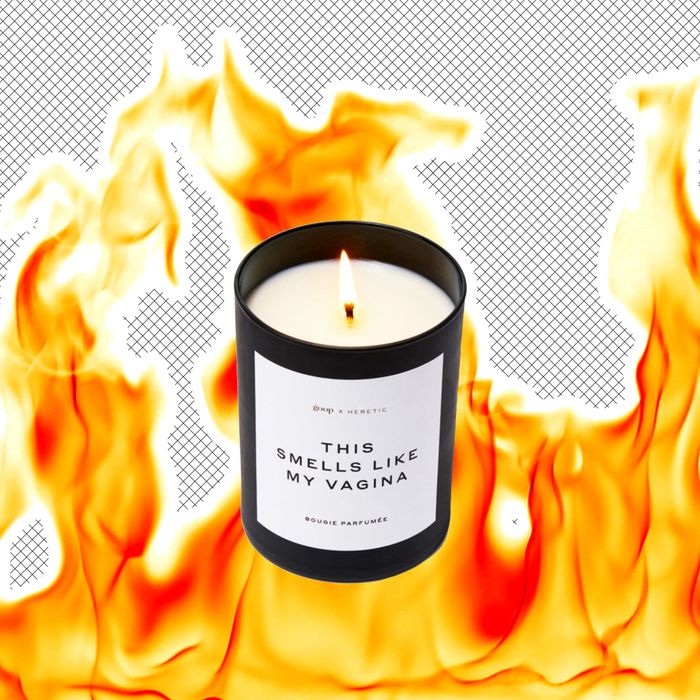 Photo-Illustration: by The Cut; Photos: GOOP, Getty Images
Gwyneth Paltrow's infamous vagina candle is meant to smell like geranium, bergamot, and cedar, but a new report suggests that it might also waft the scent of London resident Jody Thompson's living room almost catching fire.
The Sun reports that Thompson won her very own vagina candle in an online quiz, but when she decided to light up the $75 votive, things took a surprisingly dark turn. "The candle exploded and emitted huge flames, with bits flying everywhere," she told the outlet. "I've never seen anything like it. The whole thing was ablaze and it was too hot to touch. There was an inferno in the room."
Candle explosions happen, but thankfully, Thompson and her partner were able to tame the fiery vagina candle before things got dire. "We eventually got it under control and threw it out the front door," she continued. "It could have burned the place down. It was scary at the time, but funny looking back that Gwyneth's vagina candle exploded in my living room." The specificity is funny, but a Goop spokesperson told The Post that Thompson's "Gwyneth's vagina candle" wasn't purchased through the outlet, so they're unable to verify that it is an authentic Gwyneth's Vagina Candle.
Still, the brand has alerted the candle's manufacturer just in case. To be fair, Goop's candle descriptions shout, "KEEP AWAY FROM THINGS THAT CATCH FIRE" (e.g., the majority of one's living room), and we must remember that all candles, vagina-scented or otherwise, are trying to kill us in the end. Maybe check out those vagina-scented roll-ons.