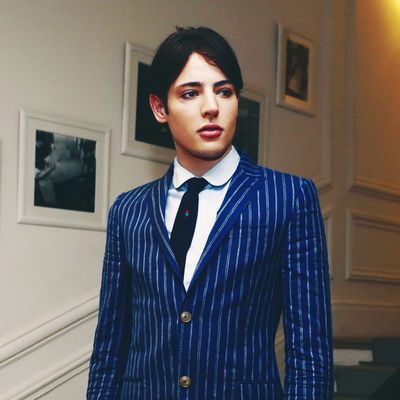 Photo: Patrick Kovarik/AFP via Getty Images
Harry Brant, the New York socialite, fashion model, and beauty connoisseur, was found dead on Sunday at the age of 24. The cause was an accidental overdose of prescription medication, according to a statement from his family.
"Our hearts are shattered," wrote his parents, who said he was just days away from re-entering rehab. Brant, an impish "It Boy," had reportedly struggled with addiction for years and was arrested in 2016 for illegal possession. "We will forever be saddened that Harry's life was cut short by this devastating disease," his parents said.
The son of Interview magazine owner Peter Brant and supermodel Stephanie Seymour, Harry Brant and his older brother, Peter Brant II, 27, were society princes born into the upper echelon of New York's art and fashion scene. They attended the Met Gala before they could legally buy cigarettes and often provided quotes for party reporters, who were fascinated by these beautiful, privileged teenagers who seemingly had no filter. (They also shared an equally unfiltered Twitter account.) When they weren't trying to out-do Gossip Girl, they were jet-setting with models and fellow scions like Kyra Kennedy, Gaia Matisse, and Princess Maria-Olympia of Greece.
Harry spoke to the Cut a number of times at various events on topics ranging from learning to drive so that he could escape Connecticut to studying for French tests in between society functions. He knew that his good looks and last name would only get him so far — that he had to work to keep people interested. "I think I have to prove myself more than if I was, for example, from a town in the middle of Ohio," he said in 2012.
Naturally, his upbringing instilled in him a deep obsession with fashion and beauty. "I have a love of opulence," he told the Times in 2012 matter-of-factly. His childhood uniform was a pair of overalls, an Alaïa T-shirt, and his mom's Manolo Blahnik loafers, he said. Later, he would declare his love for boleros. By the time he was 17, he had a column in Interview called "The Look."
In 2015, the Brant brothers turned their dandyism into a business, founding a unisex makeup line with MAC. "For a while, I was more self-conscious," Harry told the Cut in 2016 of his extensive beauty regimen. Strangers on the street would snicker at him, but he learned to ignore them. "They might be able to beat me up but not beat my outfit," he said.
Harry's confidence and aesthetic instincts were inspiring to others. "You were so creative," wrote Andrew Warren, fashion designer and member of the infamous "Snap Pack," in an Instagram tribute on Tuesday. "[And] made me more comfortable and confident to be who I am."
"He achieved a lot in his 24 years, but we will never get the chance to see how much more Harry could have done," the Brant family wrote in their statement. They asked for privacy as they mourn the loss of their "beautiful, beautiful boy."