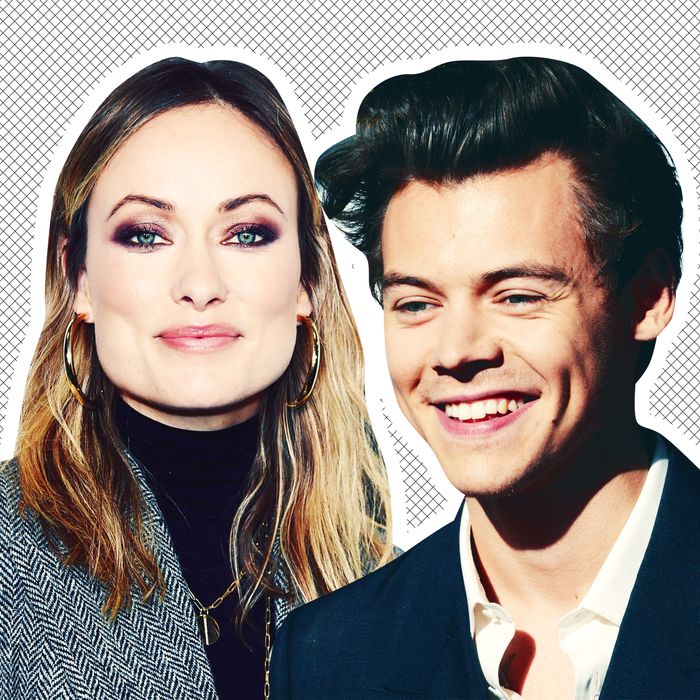 2021 is already shaping up to be a healthy gossip year. That said, Monday morning's whispers of secret celebrity engagements and new relationships have yet to be substantiated (unless you take Deux Moi's word as gospel). But now here is a rumor that we actually have a bit of evidence for: actor, writer, and director Olivia Wilde appears to be dating actor, singer, and fashionisto Harry Styles.
The big reveal happened last weekend at the California wedding of a guy named Jeff, who is Styles's agent. Photos of Wilde and Styles holding hands at the wedding surfaced on Monday, and while neither party has confirmed the relationship, TMZ calls them "very much together," which, yep, they very much look to be.
The photos show Wilde and Styles clasping hands, the latter while balancing a crystal glass of whiskey precariously on his palm. Wilde is wearing a flowy floral gown, and Styles is dressed in a thigh-hugging wide-legged suit (both Gucci — I guess you're forced to wear it if you're dating Harry Styles?). They are also both sporting face masks from the Vampire's Wife, a brand that was recently spotlighted in that viral profile of Martin Shkreli's ex-girlfriend.
It's unclear how long Wilde and Styles have been together, but it's likely a pretty recent development: Wilde, who is ten years Styles's senior, ended a seven-year engagement to Jason Sudeikis in 2020, and she recently cast Styles in her upcoming film, Don't Worry Darling, which is probably how they met.
Overall, he seems like a natural rebound for Wilde, given that both ex-fiancé and new boyfriend are prolific newsboy-cap-wearers. Congrats!