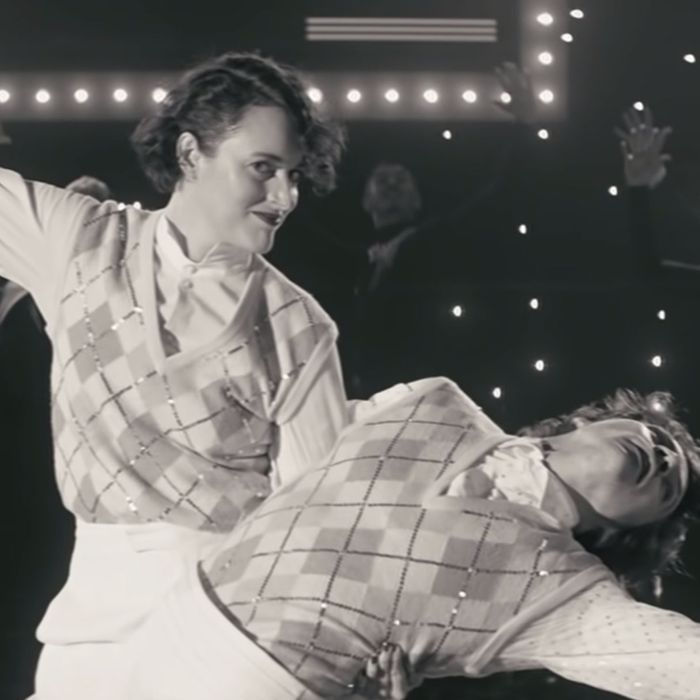 A fresh Harry Styles music video is always an auspicious prospect. And though any old one will do, when he features someone whose charm, charisma, and pantsuit-wearing abilities rival his, surely it counts for double good luck.
But only in my most outlandish fantasies did I imagine he'd procure Phoebe Waller-Bridge, of Fleabag fame, as a co-star. The thought of Harry Styles and Phoebe Waller-Bridge doing a synchronized dance routine while wearing Gucci pantsuits is more than my brain can handle, and yet:
"Treat People With Kindness," which is filmed in black and white, opens with Styles performing in an old-timey nightclub. He's eventually joined by Waller-Bridge, who appears to be playing a sort of debonair nightclub executive. The two are dressed in head-to-toe Gucci: tailored blazers over tinsel-threaded argyle sweaters, wide-legged white pants and cummerbunds. Matching cherry-red manicures set the whole thing off.
The result is a video whose vibes are simply too good. And I have to marvel at Styles's timing; just as he did when he dropped the video for "Watermelon Sugar" — a song "dedicated to touching" — over our socially distanced summer, this one has come at a very good time.
As for Waller-Bridge, this isn't her first foray into the music video world: She recently directed Phoebe Bridgers's video for her song "Savior Complex" (starring the singer's rumored beau, Paul Mescal of Normal People and sexy chain-necklace fame). I can't imagine her next collaboration can top either of these, but after this, it seems like anything is possible, so here's to hoping she shows up in Cardi B's next video.