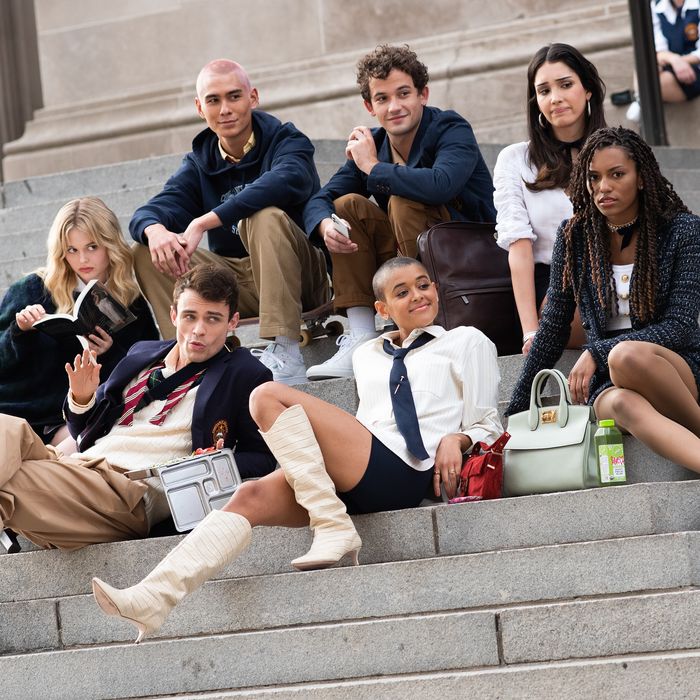 Reboots are tough. Some breathe new life into a beloved show or film (look no further than A Star Is Born) while others are merely a ghost of the iconic original. A recent and deeply disappointing example is the 2020 reboot of The Craft, which fell prey to all the pitfalls of bad reboots: It was dull, overserious, and so desperate to appeal to younger audiences that the whole effect was very "How do you do, fellow kids?"
Needless to say, the Gossip Girl remake — itself already an adaptation of a book series — has a lot to live up to, especially because the original series remains entirely rewatchable. But between the slow drip of paparazzi photos and promotional images from the new film set, I have to admit I'm intrigued.
I mean, look at this cast. The @gossipgirl Instagram released a tantalizing series of photos featuring key characters the very same day the OG show was snatched from Netflix and put on HBO Max (the home of the revival). Each photo was captioned with the character's name and game ("privilege" "style," etc.) — which really felt like TV tapas:
Hot and pretty diverse? Now, whether or not cast members' identities will play a role in the show's plot machinations remains to be seen, but the OG GG was painfully white, something its creators have since said they've regretted, so this feels like a step in the right direction.
And even if the story line blows, at least we'll be able to find solace in the clothes, something the original was famous for. The looks, as Fashionista editor-in-chief (and Gossip Girl historian) Tyler McCall noted in a great fashion thread that included first-look photos, the teens were spotted in Giambattista Valli gowns, Gucci loafers, and many a preppy blazer.
The reboot, as far as we know, takes place in the same universe as the original but is more of a sequel, updated for modern-day New York City. It'll be interesting to see how the Constance Billard crowd fares in the Instagram era. As W magazine speculated in 2019, "In the Gen-Z version of Gossip Girl, there'd probably be less shopping at Henri Bendel and more aimless Juuling in Dimes Square," which feels extremely accurate to me.
The Gossip Girl reboot is coming to HBO Max sometime this year.