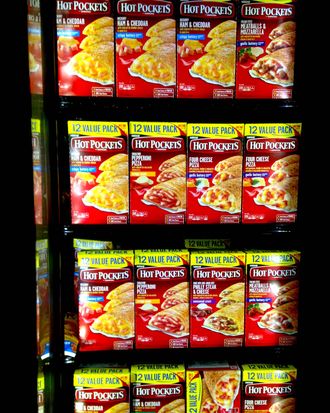 The USDA has now received four reports of pepperoni Hot Pockets containing "pieces of glass and hard plastic."
Photo: Dorann Weber/Moment Editorial/Getty Images
To those of you eagerly awaiting the moment when you will, at some point in the near future, scald the roof of your mouth on the molten interior of a Hot Pocket, LOOK OUT: The U.S. Department of Agriculture's Food Safety and Inspection Services has received several reports of "extraneous materials" inside the pepperoni kind. What type of extraneous materials, you ask? According to a news release from the USDA, "pieces of glass and hard plastic." Apparently, "four consumer complaints" have come in about the contaminated pizza snacks, including "one report of a minor oral injury."
The Inspection Service has therefore recalled 762,615 pounds of frozen Hot Pocket, specifically 54-ounce packages labeled "Nestlé Hot Pockets Brand Sandwiches: Premium Pepperoni Made With Pork, Chicken & Beef Pizza Garlic Buttery Crust." The cartons in question would've been produced between Nov. 13 and Nov. 16, with an expiration date of February 2022. Apparently, these Pockets could have little shards of glass buried inside, earning them a Class I recall designation. ("A health hazard situation where there is a reasonable probability that the use of the product will cause serious, adverse health consequences or death," per the USDA.) Anyone who purchased Hot Pockets fitting this description is advised to get rid of them.
"The quality, safety and integrity of Nestlé USA and Hot Pockets products remain our No. 1 priority," Nestlé said, per the New York Times. "We sincerely apologize for any inconvenience this action represents to both our consumers and retail customers."
The potentially compromised Pockets went out all across the country — you can find more specific info on lot numbers, etc., in the press release — so: caution. Even though the injury appears to have been an isolated incident, one cannot know what dangers lurk inside these microwavable hand pies until it is too late. Constant vigilance!