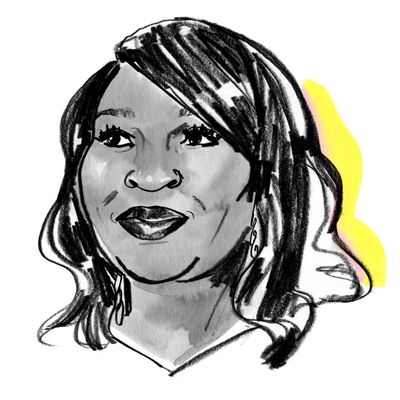 Illustration: Lauren Tamaki
Bevy Smith is a radio host, television personality, and businesswoman. Since 2015, she's hosted the daily radio show Bevelations on SiriusXM, which features wide-ranging, hot-button conversations about culture with celebrity guests like Pharrell, Don Lemon, and Kate Hudson. At 38, Smith quit a six-figure job as an advertising executive at Rolling Stone to pursue on-camera work. The transition left her "dead broke" for a time, but it was worth it: She eventually landed a hosting gig on Bravo's Fashion Queens and moved to other fashion and pop culture commentary jobs, including at Page Six TV. Her debut memoir, Bevelations, comes out this month. She lives alone in Harlem, where she was born and raised. Here's how she gets it done. 
On a typical morning:
I'm an early riser. When I'm on vacation I'm a sunrise chaser: I Google what time the sun rises, and then I go outside and I watch. In New York City I don't do that, but I am still usually up around seven. The first thing I do is a prayer of gratitude. That can be written or verbal. I fight the urge to check my emails and my social media feeds, and then I run my bath. It's very important for me to take a bath, not a shower. And with that I use all kinds of aromatics: basil, eucalyptus, citrus, peppermint. In the bath is where I journal. I write down what I'm feeling on this day. If I have the time, I'll also paint with Crayola watercolors.
Once I get out of the tub, that's when I start looking at emails and figuring out breakfast. My favorite thing to make is a smoked-salmon scramble. I scramble eggs with mushrooms and spinach and basil and onions, and I'll plate it — it's very important for me to plate it and eat it at my dining room table. Normally, I'll have it with a ginger tea. I use different mugs — each has a great message, too. Today I used my Harlem Renaissance mug. My book has so much to do with Harlem, and I want to be in that Harlem state of mind today.
On work-life balance:
For a long time, my identity was closely tied to being the high-flying fabulous fashion advertising executive. That turned out to be hollow. Now my family and my friends come first. My dad was 95 before he passed away. I had the opportunity to do Celebrity Family Feud, but they were filming on February 8, his birthday. I had to call back and ask if they would change the date, and they did. But if it had happened ten years earlier, I would have missed my dad's last birthday, because my parents would have never pressured me to show up. Now I will shut things down. Even with this book, I'm not going to be working until midnight doing promotions. I've turned away phone calls before 9 a.m. Before the pandemic, I didn't take meetings outside of my home before the afternoon, because there's stressful rush-hour traffic. I would do self care before it was called self-care — things to make my life nicer and to protect myself from stress.
On fulfillment: 
One habit that we must break is feeling beholden to what other people perceive as "dream" anything: dream job, dream relationship. If in your spirit it doesn't serve you, if it doesn't make you happy, if it's no longer fulfilling to you, you have to examine that for yourself. You have to pay attention to that little nagging feeling in the pit of your stomach, centered around something that perhaps was once a dream of yours, something that you once worked very hard toward. I spent 20 years going from a little receptionist to becoming this grande dame over at Rolling Stone, so imagine arriving at that and feeling empty. Listen to your gut and to your intuition. And that can mean simply looking at yourself and looking at your habits. I used shopping and sex to masquerade and make myself feel better because I was so miserable in my career, which in turn really affected my life.
On decisiveness:
When I'm deciding what I'm going to do, I speak to a few people, I look at the pros and cons, and then I bite the bullet. I don't look back. Because I do believe everything is as it should be. I don't live with a lot of regrets. I try not to dwell on things — once I make a decision, I move forward with that decision.
On a difficult career transition:
When I marched into the Rolling Stone publisher's office to quit my job, I was giddy. I was euphoric. I probably seemed drunk to him. I was so happy, because I knew that I could do this. But what I did not calculate is that it would take me so long to actually do it. I quit at [age] 38. Then I don't get to Fashion Queens on Bravo until I'm 45. That's a long transition period, and in the middle of all of that, I ran out of money. I was so very happy on this new career trajectory, but I was dead broke, to the tune of housing court and three meals a day out of a can of salmon. I can thank Harlem for that. We never wanted for anything as children, but there were certain people in my community that struggled financially. And I remember, when I was going through my difficult financial times, I tapped into that spirit of the incredibly strong and independent Black women that I saw when I was growing up. I knew I could do it. I knew I could make a way out because I had seen women in my community doing it for decades.
On how to succeed in media:
Be curious. I think the reason I've been able to do so many different things at once in media is because I'm curious and adventurous. I never rest on my laurels. I'm always seeking out information and knowledge. So be curious, be adventurous, be tenacious, and you cannot be intimidated by the answer "no." The answer "no" is simply the beginning of the dance. When they tell you "no," that's when it's time to put on your highest heels and get ready to cha cha, baby.
Bevelations: Lessons from a Mutha, Auntie, Bestie comes out January 12th.