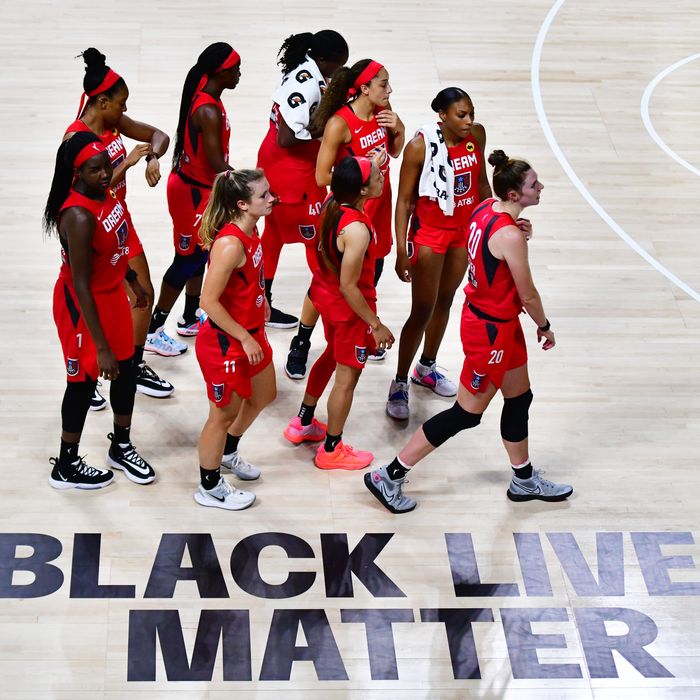 This morning, Raphael Warnock, a pastor at Ebenezer Baptist Church in Atlanta — where Dr. Martin Luther King Jr. once preached — became Georgia's first Black senator-elect, and one of potentially two Georgia Democrats to flip the Senate. (Jon Ossoff's race has yet to be called.) Warnock won against Republican candidate Kelly Loeffler, an incumbent senator perhaps best known for profiting handsomely off the COVID-19 crisis.
Loeffler, as it happens, is also co-owner of the Atlanta Dream, Georgia's WNBA team. When the entire league announced it would dedicate its 2020–2021 season to the Black Lives Matter movement, Loeffler objected, writing to WNBA commissioner Cathy Engelbert that "The truth is, we need less — not more politics in sports … I adamantly oppose the Black Lives Matter political movement."
The response from the league, and most notably, the team Loeffler co-owns, was swift. Though Engelbert declined the WNBA's union's demands to force Loeffler to resign, she doubled down on the league's dedication to social justice, and published a statement dismissing Loeffler's standing with the Dream, stating that she was "no longer involved in the day-to-day business of the team." The Dream's players were more direct: Starting in August, they began wearing T-shirts endorsing Warnock.
Elizabeth Williams, the Dream center who has played for the team since 2016, has credited Sue Bird, a player for the Seattle Storm (and Megan Rapinoe's fiancée), with the idea to endorse Loeffler's opponent. "When we realized what our owner was doing and how she was kind of using us and the Black Lives Matter movement for her political gain, we felt like we didn't want to feel kind of lost as the pawns in this," Williams previously told the New York Times. She and her teammates decided to debut their T-shirts during a nationally televised game against the Phoenix Mercury, some of whose members also wore the shirts.
Political protest in professional sports remains somewhat rare but has become more prominent in recent years in response to police killings of Black men and women. The WNBA has long been at the forefront of these and other political demonstrations. And as Michele Norris, a columnist for the Washington Post, has pointed out, the Dream's influence in Warnock's election shouldn't be underplayed.
Indeed, an analysis by the Post's Angele Delevoye suggests the WNBA's endorsement made a substantive difference in fundraising, name recognition, and polling. Deadspin echoed this assessment. Warnock himself acknowledged that his campaign raised $183,000 and gained 3,500 new grass-root donors in the 48 hours after the August 4 T-shirt debut. And hours after his official election, athletes in the WNBA, the NBA, the MLB and more cheered the Dream's relentless activism.