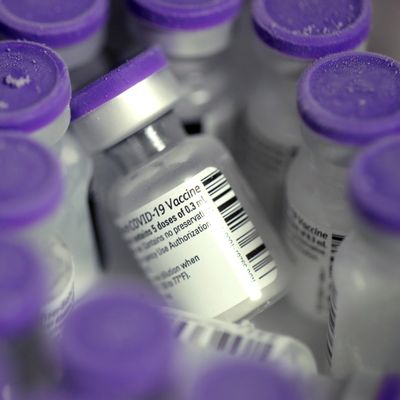 At 4:30 yesterday, as I slumped in to the second hour of a Zoom webinar, I got a curious text. It was a forwarded screenshot of a WhatsApp message that had reached a friend from a sister-in-law's friend's public-school teacher mother, and it suggested there were hundreds of extra COVID-19 vaccine doses in Brooklyn that needed to be used by 7 p.m. There was no source for the intel but no telltale signs of a scam, either. Although New York's distribution effort was already notorious for Cuomo's threat to punish health-care providers for breaking prioritization protocol, he'd recently switched to threatening them for not using doses fast enough. Plus, people in other parts of the country had been finding leftover vaccine doses through whispers and Walgreens pharmacists. There was an address five miles away and, I thought, maybe just enough time to get completely, inexplicably lucky.
When I started biking, I felt that the warmer weather and last half-hour of sunlight justified a ride, no matter the outcome. As I got closer, though, I started to believe that if the rumor was true, I would never have been able to justify to myself that I had stayed at my desk and turned down an escape from the pandemic. I started pedaling as fast as I could, my belief growing that I could, just maybe, beat enough people to, well, save myself.
Hundreds, if not thousands, of other New Yorkers thought the same thing. I arrived on my bike at the Brooklyn Army Terminal at 5:15, snaking past cars that were lined up in a jam down the block. I found what looked like an extremely popular construction site: people hurrying to join lines pressed against chainlink-fence and concrete barriers, the closest one behind a giant illuminated traffic sign reading "COVID-19 VACCINE HUB." I joined the first line I saw, which extended from the vaccination site entrance on 58th Street around the corner onto 1st Avenue and was starting to turn around the next block. For a minute, I indulged the ludicrous possibility of snatching a highly coveted spare vaccine via chain text. That fantasy ended when the man in front of me informed me I was in the line for people with appointments.
Turning the corner back to 58th and then on to 2nd Avenue, I followed another line that had formed in the road, squished against a chainlink fence by cars, arriving police vehicles, and ambulances coming and going from the nearby hospital. Helicopters arrived, adding to the cacophony of vehicles and the chatter of people in line.
A man who identified himself as a security employee for the site started coming down the line telling people that the doses were gone. Almost no one left their spot. On his way back to the entrance, the woman behind me asked him if what he were saying were true, why wasn't anyone leaving. "I guess they don't believe me," he said. Instead, people were discussing the latest intel they heard from a friend or what they last saw online: how many doses were actually left, that the 400 advertised were gone but that we should wait until after 8 p.m. to see if they had leftovers from appointment no-shows, that officials were telling us to go home just to manage the crowd.
The line started moving toward the front, but, as we'd all learn once we got there, this wasn't because they were letting people in. The doses were real, but now the site had run out.
Despite comments from Mayor de Blasio's press secretary Bill Neidhardt and Councilmember Justin Brannan that suggested the crush was based on misinformation — denials that were widely reproduced in news accounts — people on site when I arrived, and those who had been there earlier, indicated the opportunity had been a real one. While it's not clear whether the availability was anything near to the "410+ doses" claimed in the WhatsApp message, it was apparent that there had been surplus doses and that walk-ins were taken.
A doctor standing at the front entrance told a crowd that "today was an exception … we ran through the amount we had for walk-ins, we're not doing any more walk-ins." Other videos show health-care workers confirming that there had been extra doses available earlier in the day. While I couldn't find anyone who'd made it in time, some people seem to have successfully received a walk-in vaccination based on the tip.
By about 6:15, the walk-in line had disappeared, police had seemed to figure out how to turn away the cars and any pedestrians that continued to arrive, and hospital staff had found a megaphone to help manage the line that remained with people who had appointments set.
The people I spoke with were brought there by pretty much every communication method, and by official, semi-official, peer-to-peer, and fully crowdsourced means. For some, information about the extra doses did certainly come, at some point, from health-care professionals. James Kent, 63, had a Friday appointment but was contacted in the late afternoon Thursday by the health system. "I got a call at 4:51 asking if I was available tonight to come in and switch my appointment that was scheduled for tomorrow," he told me after receiving his vaccination. "Now, I'm here and it's done." Another woman I spoke to had been accompanying her parents to receive a vaccination at another site when a staff member there informed her she'd just received word of extra doses at the Brooklyn Army Terminal.
Most, however, just saw something on Twitter, Facebook, or a group chat. James Seward, 40, heard about the vaccines on Facebook and rode his bicycle from Dumbo to Sunset Park "as fast as he could" to see if he could get one. When he arrived, he said he found "a long, long line and confusion." Someone in line told him he needed to make an appointment online. "I found the link and tried filling it out five times and it just kept saying 'no appointments available," he said. He was eventually informed by site staff that there were no more walk-ins available.
A woman who gave her name as Nana, who I found playing an ad hoc role ferrying information up and down the appointment line, told me she received a text from a friend and rushed over even though she didn't really believe it could be true.
I'd done exactly the same, even against the particular absurdity that tightly controlled vaccine doses could be found by word-of-mouth and the general New York knowledge that, no matter how early you think you are, there will always be masses of your neighbors that beat you to the punch. I saw a lot of people try to extract special information from police and hospital staff about the possibility of extra doses if they stuck around, but I'd seen the same from people trying to snag an open table even when the restaurant was fully booked. Though the circumstances of the rush gave it an apocalyptic flavor, there didn't seem to be any real human descent into chaos. No fistfights or shouting matches about who was in line, no storming of the gates. Just a lot of cold people, all desperate enough to chase down a lead so unlikely it could have been — and actually was — real.