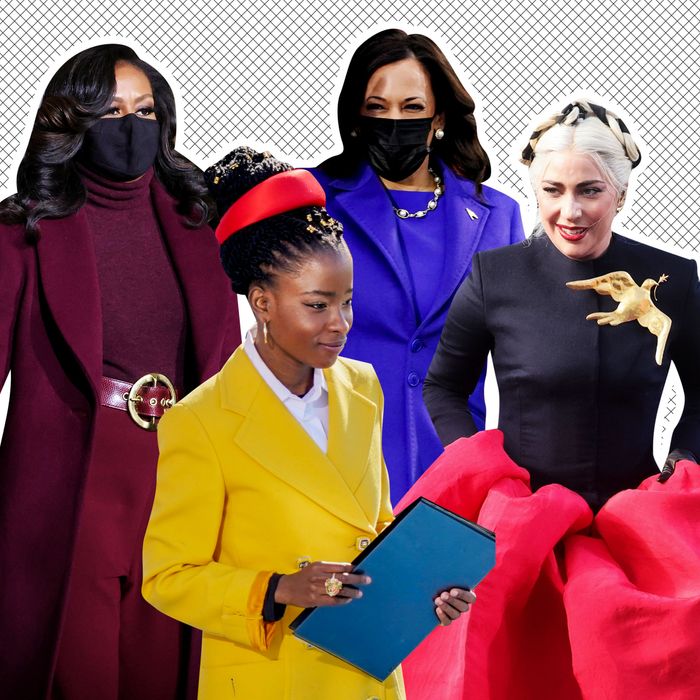 Photo-Illustration: by The Cut; Photos: Getty Images
Against all odds, the inauguration of President Joe Biden and Vice-President Kamala Harris did not take place over Instagram Live on Wednesday. We got the full shebang: the living-room furniture placed outside; the wispy white hair of America's leaders blowing in the wind; and, of course, lots and lots of statement outerwear. It was as if every single member of American government was Nicole Kidman in The Undoing.
Seeing that the inauguration always takes place outside, in Washington, D.C., in the middle of January (has anyone ever questioned this?), there is a long history of American politicians and performers wearing memorable coats and winter accessories to attend; think Jackie Kennedy's fur muff, Nancy Reagan's red Adolfo coat, Aretha Franklin's bow hat. Usually, we can expect some combination of costume and diplomacy. But four years ago, Trump ushered in a period of leaning more toward the former. Like, a lot more. And that's putting it nicely. (Remember Kellyanne Conway's inauguration coat? Melania's infamous jacket?)
Wednesday, by comparison, marked a return to "normalcy" — which is to say, politicians wearing coats we actually like and would want to wear. Every kind of outerwear was represented, from sensible Vermont coats (Bernie Sanders in Burton) to art-school Bushwick coats (Ella Emhoff in Miu Miu) to Upper East Side tweed (Carolyn Maloney). Small American brands, such as Christopher John Rogers, Markarian, and Sergio Hudson, were given a huge, historic platform to show off their coat skills. Even Miuccia Prada's work made an appearance! Twice! Such smart tailoring and thoughtful design was a sight for sore eyes. Plus the whole thing felt like it offered some real-world inspiration, considering that we all have to don coats now whenever we want to see our friends — they're really the new going-out top.
It was an encouraging day for democracy, and statement coats. Below, some powerful ideas for your next socially distant, masked-up outing.
Dr. Jill Biden in Markarian
Ella Emhoff in Miu Miu
Bernie Sanders in Burton
Lady Gaga in Schiaparelli
Michele Obama in Sergio Hudson
Vice-President Kamala Harris in Christopher John Rogers
Jennifer Lopez in Chanel
Amanda Gorman in Prada
Amara Ajagu and Leela Ajagu