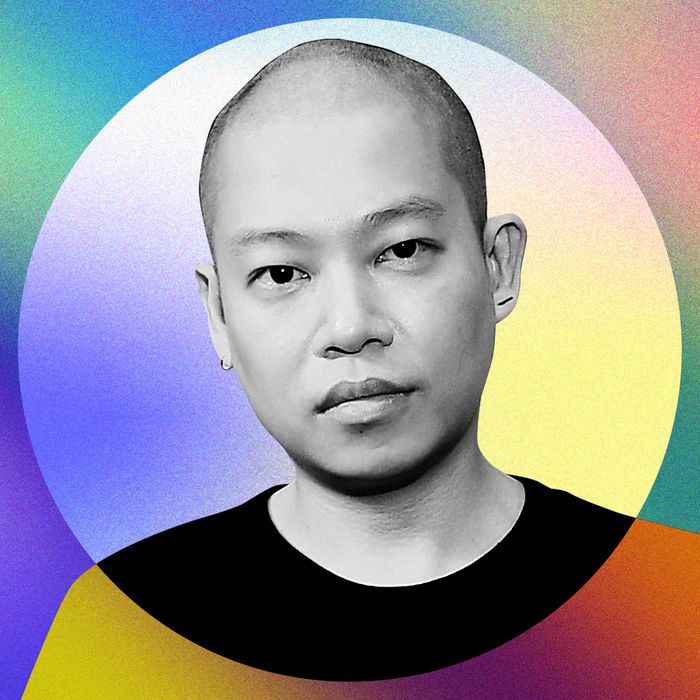 Photo-Illustration: by The Cut; Photos: Getty Images
"A Beautiful Life" is a new column about the people who are shaping the world of beauty.
Jason Wu is known for creating some of Michelle Obama's best and most widely seen looks, such as the one-shoulder chiffon gown she wore to the 2009 Inaugural Ball that cemented her status, and his, as a fashion icon. (She doubled down on Wu again with the ruby gown she wore to the 2013 Commander-in-Chief's Ball). Now, after partnering with Lancôme and Caudalie and releasing two fragrances, the designer is aiming to become a beauty icon with Jason Wu Beauty (JWB), a new, affordable yet luxurious makeup line created in collaboration with Toni Ko, founder of NYX Cosmetics) and creator of the new incubator company, Bespoke Beauty Brand. Everything is priced under $25.
Wu considers his Hot Fluff lipstick the hero product. "You can use it on the eyes, cheeks, mouth — it's a great product that is very versatile," he says. The shades are named after carbs (this seems to be a theme in Wu's life): Apple Pie, Gingerbread, Jelly Roll. He also loves the lip and eyebrow pencils (they're good for sketching, he adds) and a rosewater-based product called Jason The Freckled Boy. "I like a faux DIY freckle," he says. "I have them naturally, but I like to add some around the nose. It's a great way to do a little makeup at home." JWB is certified Target Clean (and will be sold at the chain) and is cruelty free. The Cut talked to Wu about at-home facials, pink powder puffs, and the wildest beauty experience he's ever had.
What was your vision for Jason Wu Beauty?
The color nude is our inspiration. We wanted to expand the definition and encompass all different types of skin tones. It's very inclusive and all about revealing natural beauty, not hiding. It's opposite to the trend of contouring. You don't need too much in order to get ready. Beauty is fun, and it's transformative — that's what I love about it.
The impetus to the collection was a conversation with Toni. She's a legend. We would text all the time. We worked on this for almost a year, with the two of us getting really involved in the shades, packaging, and feel. We thought there was a thrilling white space of a prestige designer brand in a masstige market. We wanted to present something that was not out there already, and we wanted this collection to be extremely affordable but have a luxe look and feel.
I myself am not a morning person — that's why I have no hair; I literally cannot deal. The idea is to make getting ready easy, feminine, beautiful, and sophisticated. I also love the 1950s and kept thinking about pink powder puffs. That soft color was a big inspiration for me. We wanted complementary tones within each palette and to have everything be super-versatile. It's rich shades without being overly flashy.
What's the wildest luxury beauty experience you've ever had?
On Saturday, my friend at 111SKIN Beauty did a whole at-home spa for me. It was the 111SKIN Celestial Black Diamond line, with the eye patches. It was a good two-hour facial. I haven't had one all year. I haven't really seen anybody, and to be able to do it on a bed, in the luxury of my own home, was incredible. I love facials and anything beauty and rejuvenating. I like to try it all.
In your opinion, what's the best affordable beauty product or products?
Cetaphil's body lotion is my favorite. I have really dry skin, and it works. I also love Bioderma cleanser. It gets the dirt off your face.
Fill in the blank: Unfortunately, _______ is worth it. 
Botox is worth it. Am I allowed to say that? I think it's okay — just being honest! We all could use a little lift here or there sometimes; it just comes with age.
Do you think of beauty as self-care?
Yes, it's pampering. Whenever I'm having a tough day, even putting a sheet mask on and lying down for 20 minutes with a glass of wine lifts me and makes me feel good. Those are little luxuries in life. It doesn't need to be complicated or expensive.
Has the way you think about beauty changed during the pandemic?
We started working on this [line] before the pandemic. Now we are on back-to-back Zooms. Most people, like myself, are on incessant calls. You want to look good on Zoom. That's changed the way people get ready.
I still use the same amount of skin care, so that hasn't changed. I definitely like a nice exfoliating face wash a couple times a week. I'll layer with a few serums and creams, a little toner, and the Caudalie Beauty Elixir spray. Then I use a Natura Bissé moisturizer — that one's really great. I love 111. I also love the Drunk Elephant C-Firma Day Serum and then Sisley Black Rose Cream. I don't use makeup daily. I'm at home, so as long as I feel fresh, I feel good about it. Since I don't go to so many events now, I don't need a full face or grooming done.
What do you wish more people understood about what you do?
It takes a lot of thought and work and craftsmanship, whether it's fashion or beauty. We aren't just churning things out every few months. There's no formula. There is a lot of thought in every detail, down to every single word on the box, the shade, the color, and the finish of the paper. We think about how to get the story across in two seconds. In fashion, a lot of work and research go into designing anything.
In some ways, beauty is easier. You design it once and then we'll add more colors as we go along. It's less seasonal. But because it's not seasonal, you need to be confident about everything. You can't just switch and start over.
What was the biggest no you heard in your career, and what did you learn from it?
I've had so many. I've had more doors shut than have opened in my career. All you can do is ask, and the worst that can happen is they say no. You're not losing a limb.
What's one fan experience that stands out for you?
A truck driver stopped and said, "You're that guy that designs clothing!" It was funny because it was definitely not my usual demographic of women. Typically, it's not a huge, burly guy!
Where would you like to see the beauty industry go from here?
Being inclusive has been on the horizon for quite some time. Inclusive has to be more than just race and skin tone. What can we as designers do to make people feel comfortable? We can introduce quality products, which are affordable. Everyone wants a piece of fantasy, even if it's a $9 pencil.
Is eye cream worth it? Which one is your favorite?
I actually like the Kiehl's Creamy Eye Treatment With Avocado. I like to keep it simple. I'm more of a weekly user. I'll use eye cream when I'm doing my whole face on a weekend.