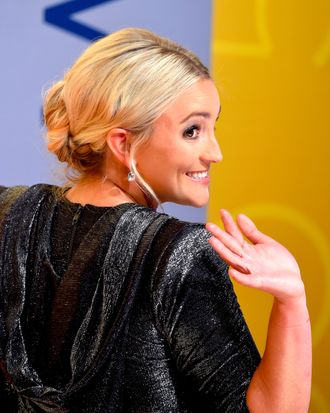 Jamie Lynn Spears.
Photo: Michael Loccisano/Getty Images
Before we get into this, I would like to clarify that the following question is purely hypothetical, just a weird little what-if that has been pinging around my brain space for the last hour or so: How many cats, if any, might EDM artist and Tesla CEO Elon Musk "owe" celebrity sibling Jamie Lynn Spears? One cat? Two cats? Three to four cats? Zero cats, really no cats to speak of? Hm!
I have been wondering about this purported debt because of a video message Jamie Lynn (Nickelodeon star turned country singer, and Britney Spears's little sister) reportedly posted to Instagram on Friday. She has since deleted the footage, but not before it landed on TMZ: According to the gossip site, Jamie Lynn told her followers that Musk "owe[s]" her "a couple cats," replacements for the pets she'd apparently lost to her very quiet smart car.
"The Tesla is a secret cat-killer, and it's a problem that we really gotta fix," she said. "We have now lost, I don't even want to tell you how many cats, because they don't hear the Tesla crank and unfortunate things happen and it's really devastating and tragic for everyone involved."
Jamie Lynn reportedly went on to suggest that Tesla add "one of those noises that like bother cat or animal ears when it cranks up so that way they know something's happening and they aren't caught off guard and things don't end in a very tragic way." As CNN points out, the U.S. National Highway Traffic Safety Administration has required electric car manufacturers to equip their vehicles to make "about the level of noise your dishwasher makes" since September 2020, "to ensure that blind, visually impaired, and other pedestrians are able to detect and recognize nearby hybrid and electric vehicles." But nonetheless, Jamie Lynn concluded her video message by saying: "Elon Musk, let's figure this out. You owe me a couple of cats."
This disclosure did not land well online, where some observers called the 29-year-old a "serial cat-killer" and urged her to simply make use of the car's cameras, or to make noise before driving into or out of areas where cats may lurk. In a follow-up video, which she subsequently deleted but which TMZ again preserved, Jamie Lynn said that she is "fully aware there's some user error involved in this," but would nonetheless be up for some collaboration "to save some cats' lives." She then came back a third time, E! reports, writing in an Instagram story:
1.) I did not run over any cats. 2.) TESLA is not to be blamed, and was never intended to be 3.) user error is admittedly involved. 4.) we always check for animals before moving a vehicle. 5.) I was only making a suggestion about something I think would be extremely helpful, and the geniuses at @teslamotors are the best to go.
Then again, TMZ also recorded a clip from her Stories in which her young daughter, Ivey, says that her cat, Turkey, "went to Jesus," so there's that. For his part, Musk does not appear to have commented on the undisclosed number of cats allegedly due.