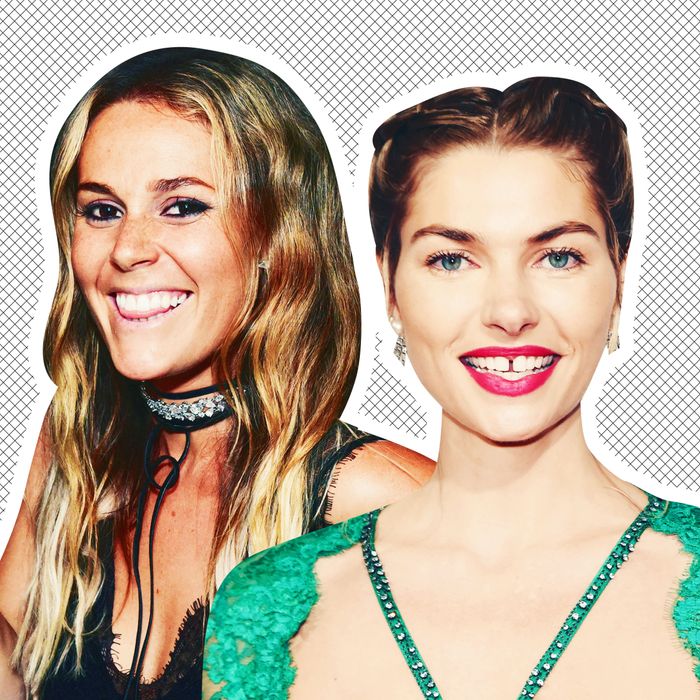 Sasha Benz (left) and Jessica Hart (right), the key complainants in Baybi v. Baby.
Photo: Getty Images
Let me be clear: I'm baby. You are also baby. We are all baby, except for this guy, who is very clearly not baby, whatever arguments he might make to the contrary. We went over this in April 2019, when a glorious meme ("im baby") revealed the boundaries of babydom to be so porous, they sometimes feel nonexistent. Basically, anybody can be baby, only I guess nobody told alleged friends and confirmed Instagram personalities Jessica Hart and Sasha Benz, who have reportedly been warring over whose baby is really Baby.
Apparently, Hart recently named her newborn daughter Baby, news that came as an affront to Benz, who named her own daughter Baybi three years ago. Allegedly "devastated" by this seeming theft of intellectual property, Benz stopped speaking to Hart for a time. Or was it the other way around?
Behold, the first niche drama of 2021: Baby vs. Baybi. Let's dive in.
Who are Jessica Hart and Sasha Benz?
Jessica Hart is an Australian model and the founder of Luma Beauty. Sasha Benz is the owner of Montauk, New York–based shops Wyld Blue and Wyld Black, the former creative director of a trendy Montauk restaurant, and the founder of a blog called All My Friends Are Models. It would appear that Hart is one of her model friends.
Who is Baby?
Officially, Baby is an infant born to Hart and her fiancé, NASCAR driver James Kirkham, on November 17, 2020. Here's Baby:
In an exclusive People birth announcement, Hart explained the name choice thus:
I first heard it in the movie Dirty Dancing and always thought I'd love to name my daughter Baby. I was hesitant to ask James about it at first but we just weren't landing on a name. Finally, probably a month before she was born, I said what about Baby, and he said, 'Oh my gosh, I love it.' It's felt right ever since.
Hart clarified that, in a hat-tip to her mom and to her own full name, the newborn's legal name is "Baby-Rae Kirkham, but we just call her Baby." But she did not clarify exactly when she first saw Dirty Dancing, which — if Sasha Benz's narrative is to be believed — must have been fairly recently.
Who is Baybi?
Baybi, middle name Blue, is the daughter of Sasha Benz and DJ Oli Benz (this story has so many notable names!), born in March 2018. Here's Baybi:
Baby vs. Baybi: The Beef
As you can see, Baybi Blue Benz is quite a bit older than Baby-Rae Hart, and according to the Sydney Morning Herald's sources, the latter's "name was not a long-time dream" but a riff on the one the Benzes had already claimed. Per the Morning Herald, Benz was "blindsided" when Hart informed her of the decision just a week before Baby's birth.
"We are calling her Baby, but don't worry — it's spelt differently!" Hart announced, according to a friend of Benz's, who added, "Sasha was devastated that her close friend would copy her daughter's 'unique' name, especially after she'd [Hart] gone to her [Benz] for name ideas."
The Morning Herald published its hot goss on January 3, contending that Hart and Benz "have hardly spoken since" their dustup. But the Daily Mail Australia reports that it has now spoken with Benz, who would like to assure us that, actually, all is well in Baybi World.
"Of course Jess and I are still friends. We chatted it out a few weeks back, and I am happy she has a name she loves for her beautiful girl," Benz told the tabloid. While she reportedly "did not dispute" the rumored beef, she insisted it was over. "This is her moment and I want her to enjoy this beautiful part of becoming a mother … Baybi is almost three now and our new babies are only weeks apart, so it's more important that they all grow up knowing there are more important things to care about, and both Jess and I agree on that."
Chaotically, though, a "source from Jessica's camp" told the Mail that Baby "has always been on [Hart's] list of names, before she even knew Sasha and her baby." It's unclear precisely when the two women became friends, although this photo has them hanging out in Montauk as of August 2019, after Baybi Benz was born. Which is to say, potentially: Stay tuned?
Okay, but who is really baby?
I'm baby! You're baby. Baby is baby, as is Baybi. Jessica Hart and Sasha Benz? Could also be baby! DJ Oli Benz? He's ba—well, on second thought, I am not so sure.
This article has been updated to clarify Sasha Benz's professional background.