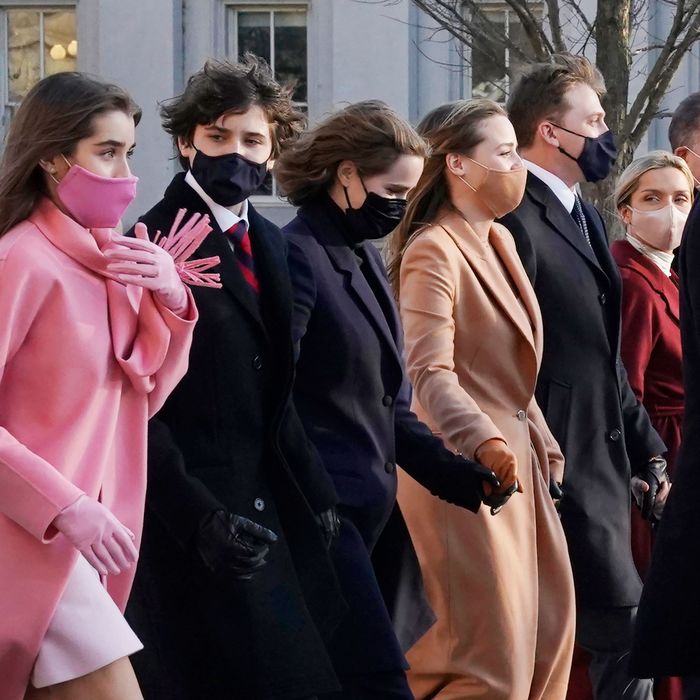 Photo: TIMOTHY A. CLARY/AFP via Getty Images
Over the course of the last few days, the Biden administration has made it clear that when it comes to fashion, championing a diverse cast of American and America-based designers is a priority. This is especially striking compared to Trumps, who so obviously valued status over substance. (Melania bid farewell wearing Dolce & Gabbana and Chanel and carrying a crocodile Hermès Birkin — the holy trinity of rich European style.) We've already seen a new roster of names at the Capitol who will redefine American fashion as we know it.
Historically, First Ladies have used their position to support American brands and designers. Each new administration tends to usher in a new generation of talent, and with them, new fads. Hillary Clinton, for example, wore Donna Karan when the designer's stretchy, comfortable pieces were the height of American fashion. Michelle Obama, of course, was known for wearing J.Crew when J.Crew was the pinnacle of cheap and cheerful American workwear. (To be fair, Melania Trump bought some of Raf Simons's Calvin Klein, and Ivanka even Ivanka-fied brands like Rodarte.) But who will be the Donna Karan, or the J.Crew, of Joe Biden's America?
The latest White House makeover coincides with one of the most precarious moments in American fashion history. Designers need support financially, first and foremost, but this upheaval has also set the stage for a long overdue reinvention of the industry as a whole. Who Dr. Jill Biden and Vice-President Kamala Harris, and others, choose to champion will not just be a matter of taste, but also philosophy. It is a question not just of what we want American fashion to look like, but also what we want American fashion to be. The stakes are high, and the spectrum of possibility huge, which is partly what made Wednesday's pageantry exciting.
So far, Jill Biden and Vice-President Kamala Harris have made a point to wear designers whose values match their own: Kerby Jean-Raymond of Pyer Moss, Jonathan Cohen, Christopher John Rogers, Alexandra O'Neill of Markarian, Gabriela Hearst, Prabal Gurung, to name a few. They are Black and white and Asian and Latinx. They are immigrants and children of immigrants. They believe in racial justice and sustainability and responsible design. They are young and independent, and are developing new business models that work for them. Michelle Obama made an effort to wear designers who fit a similar profile — Jason Wu, Tracy Reese, Narciso Rodriguez — but there were fewer channels at the time for nonwhite or sustainable designers to achieve success within the industry.
Before the inauguration on Wednesday, other politicians were redefining American fashion in their own ways as well. Alexandria Ocasio-Cortez is an obvious example. She's worn Christopher John Rogers before, and supports designers in her district like Jason Rembert of Aliette, Karen Perez of Second Wind, and of course, Telfar. (I can almost guarantee you that Telfar will make another White House appearance in the next four years.) None of these designers are white, and all of them own small, independent labels.
And then there's Bernie Sanders wearing a Burton jacket and mittens made from repurposed wool sweaters and recycled plastic bottles. His look may be more of a joke at this point, but it was, in its own way, American. It was crafty and gorp-y and I definitely saw some hand-knit mittens in my feed this week. On Wednesday, Burton sold more than twice the number of Edgecomb jackets than it did in the combined two weeks prior.
There is a rumor that stylist Karla Welch is responsible for Vice-President Harris's wardrobe choices as of late. Even if it's just hearsay (which I don't think it is based on the designers Harris has worn so far, and the fact that Welch is one of the most politically outspoken stylists working today), we can still use Welch's style philosophy as a sort of hypothetical model for what American fashion could value over the next four years. Welch, who is Canadian and whom I profiled in 2018, is not interested in conventional, highly gendered aesthetics. She doesn't care much about what is traditionally "pretty," or the sort of princess-dress attire that would land a celebrity on the best-dressed list. She does not think a pantsuit derives power from its masculine associations. She believes the best kind of fashion is emotional, instinctual, fearless — fashion that highlights someone's personality in addition to their physical attributes. That makes you feel inspired instead of envious. Most importantly, fashion that actually says something, that stands for something more than just wealth and beauty. (Or, you know, fascism.) It may sound a little corny, but isn't corniness one of America's greatest exports?
Welch, like AOC, is also extremely active on Instagram, which I think is important to note. Even if she has nothing to do with Harris, we are arguably about to see Instagram influence White House fashion for the first time ever. (The only Instagram brand that Ivanka seemed interested in was the Reformation, and the Obama girls were too young.) The fact that we've already seen credits from brands like Batsheva — that a freakin' prairie dress was worn to an inauguration in 2021!!! — shows that the algorithm is firmly in the building. It's like Emily in Paris, but make it Ella Emhoff in the White House.
What does this mean? It means that teeny-tiny niche brands have a shot at being the next J.Crew. (AOC discovered Second Wind after reading a post about the brand on @DietPrada.) You no longer have to be a huge company, or a deeply traditional brand like Ralph Lauren to make it to the halls of the White House. (Joe Biden's RL getup was one of the least-talked-about looks from Wednesday.) It means that we're going to see a lot more unexpected juxtapositions, like Maisy Biden wearing Rodarte with Nike sneakers. (If this isn't a Karla Welch move, then I don't know what is.) And it means that American fashion could be anything; it is mutable and chaotic, and totally up for grabs.
I hope this is what people who aren't in America talk about when they talk about American style. Not that it's dead — murdered by its own capitalist impulses — but that it's free to be whatever it wants. That our vice-president is deliberately championing Black-owned brands; that our First Lady is wearing designer coats made out of fabric scraps; and that our first Second Gentleman's daughter is knitting her own sweaters in Bushwick. God bless.