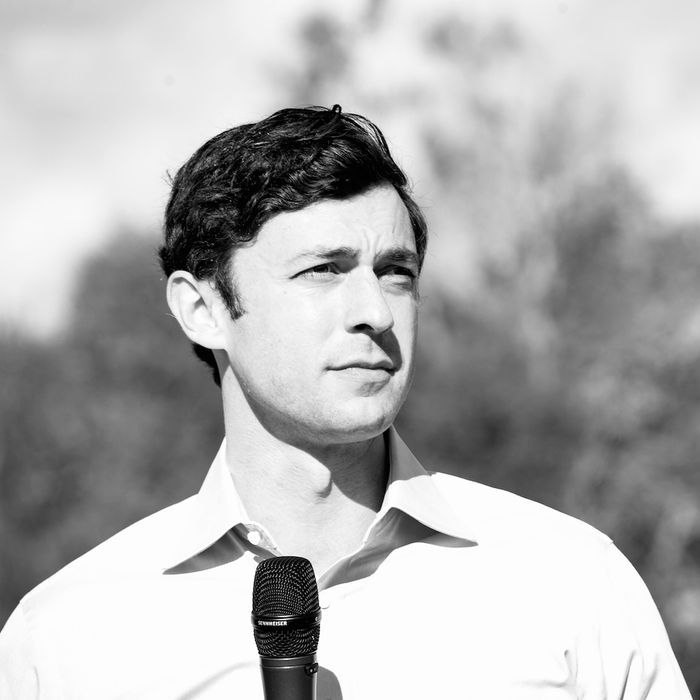 Jon Ossoff.
Photo: 2020 Getty Images
As a violent mob of Trump supporters laid siege to the Capitol on Wednesday, news broke that Jon Ossoff had defeated opponent and incumbent David Perdue in Georgia's pivotal Senate runoffs. His victory, combined with Raphael Warnock's history-making defeat of Kelly Loeffler, means Democrats now control the Senate.
"It is with humility that I thank the people of Georgia for electing me to serve you in the United States Senate," Ossoff, 33, said in an address this morning, before the official call was made. "Everybody who cast your ballot, everybody who put your faith and confidence in our democracy's capacity to deliver the representation that we deserve — whether you were for me, or against me — I'll be for you in the U.S. Senate."
In November's election, neither Perdue nor Ossoff garnered 50 percent of the vote — Perdue took a slight lead, with 49.7 percent to Ossoff's 47.9, triggering Tuesday's runoff. This time, Ossoff got 50.4 percent of the vote to Perdue's 49.6 percent, making him not only Georgia's first Jewish senator but also the youngest sitting senator in the entire country.
Whereas 71-year-old Perdue has held his Senate seat since 2014, Ossoff was formerly a documentary producer. He ran for Congress in Georgia in 2017, narrowly losing in a traditionally Republican district. In this campaign, he made COVID-19 relief and an expanded Affordable Care Act key priorities.
Ossoff's win came hours after Warnock's, which was confirmed this morning. In a stirring speech, the reverend — who will be the first Black senator to serve Georgia — once again paid tribute to his mother, who worked as a sharecropper in Georgia in the 1950s.
"The 82-year-old hands that used to pick somebody else's cotton went to the polls," Warnock said, "and picked her youngest son to be a United States senator."
At time of writing, Perdue had not yet conceded, but Warnock's and Ossoff's victories (once they are certified, a process that will take a few days) cement a slim Democratic majority in the U.S. Senate — a 50-50 split, with Vice-President-elect Kamala Harris as the tie-breaking vote. Meaning New York senator Chuck Schumer will replace Kentucky senator Mitch McConnell as majority leader.