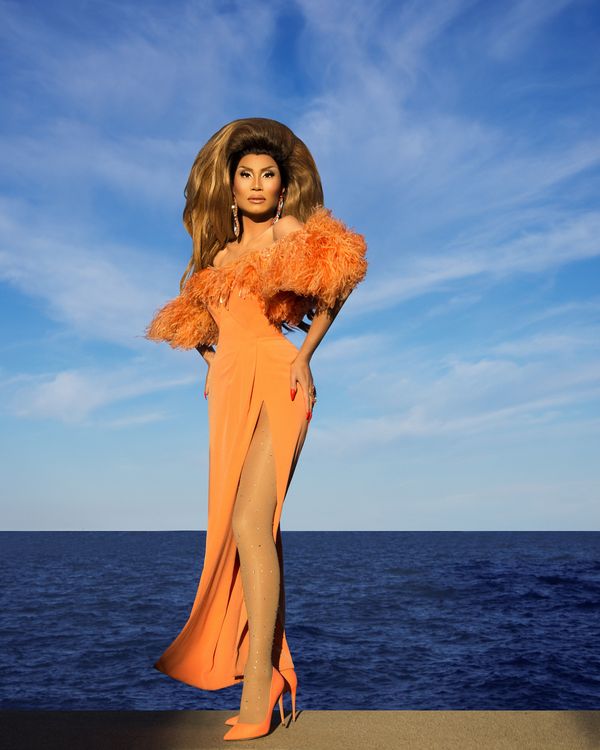 Kahmora in the Mackie gown that amazed the
Drag Race
judges.
Photo: Adam Ouahmane/courtesy of VH1
On New Year's Day, reality-TV audiences were introduced to a new label girl: Kahmora Hall, the living Bob Mackie doll, now a competitor on RuPaul's Drag Race season 13. Her appearance on the Main Stage of the show made Carson Kressley — OG Queer Eye for the Straight Guy Fab Five member, Drag Race judge, and all-around fashion expert — do a double take. The reason: Hall, done up immaculately from head to toe, was wearing an original Bob Mackie piece.
"I had it reconstructed to fit my body because I'm sample size," she demurred. But perusing Hall's Instagram reveals that the piece is one of many in her collection from the designer, who became known for his work dressing celebrities like Cher, Carol Burnett, Diana Ross, Sir Elton John, and Bette Midler, as well as creating costumes for Broadway shows, Las Vegas revues, operas, and ballets.
Hall, whose drag name references the similarly uber-luxe Kimora Lee Simmons, has come a long way since she started out performing in a Victoria's Secret bra and men's skinny jeans. Mackie's aesthetic is now a guiding principle for her own looks, and she spends a considerable amount of time scrolling through auction houses, estate sales, eBay, and even sites like Depop and Poshmark to get her hands on his designs.
"The first thing I do when I wake up is I go on my computer, at work, and I look for Bob Mackie dresses," she tells the Cut. "Don't tell my boss, but that's how dedicated you have to be to find these couture-quality pieces. You have to spend hours and hours." And these aren't obscure, forgotten selections — some of her wares are featured in the 2001 fashion tome Unmistakably Mackie, and others have been recently worn by celebs like Miley Cyrus. Here, the Cut talks to Hall, the drag sister of season 12 winner Jaida Essence Hall, about her love for the longtime designer and costumer.
What came first for you? Drag or an interest in fashion?
I was more interested in drag at first. My first exposure to it was when I randomly watched Drag Race on TV with my sister. I had just started college and I was like, What is this? I was just so enamored by it. I went to Loyola University, and they have an annual student drag show. That's where I first met my drag mother, Tajma Hall, and I told myself, if I ever did this, I wanted to be just like her. I didn't pursue it until I turned 21. I performed in the student show wearing a Victoria's Secret bra that I borrowed from my friend and Forever 21 jeans. I was wearing some men's skinny jeans, because I thought they looked feminine enough. No one could tell me I looked bad. I felt like the hottest person in the room. From there I just fell in love with drag. When I became more serious about it, that's when I wanted to find a nice dress. And of course the first dress I bought was a Bob Mackie, but I didn't know that at the time.
Can you talk to me about how you came across it?
I came across this nude peach-tone dress on eBay that was covered in aqua and golden stones, with ostrich feathers on the bottom. I had never seen something like that before, and I knew I just had to have it. One thing my drag mother told me was to really invest in your drag — "good drag ain't cheap and cheap drag ain't good." I really wanted to impress her, so that's why I bought it. But I didn't know it was a Bob Mackie until I got it and saw the tag. That just made me want to know more about him. I did my research and from there, it's history. I fell in love. It was just so glamorous and jaw-dropping. And that's basically what I wanted for my drag character: a fabulous, luxurious woman, someone who looks like they're dripping in money. But in reality, she's dripping in student debt.
I'm curious: You said you didn't know that dress was Bob Mackie. Were you cognizant of him before?
I knew of him a little bit just because he was a special guest on season one of Drag Race. I didn't know what kind of stuff he designed. And as a gay, I was like, Oh, I'm so ashamed I don't know who Bob Mackie is, but I'm so glad that things happened the way they did. Every piece that I own from him now, it does feel like I'm wearing a piece of fashion history. It's the fantasy of it all. That's what drag is, right? It's like living your fantasy.
Do you have a favorite Bob Mackie era or or collaboration?
Yes. Bob Mackie at his prime in the '60s and the '70s, like his work for The Sonny and Cher Show, the Carol Burnett Show, his work with Carol Channing, the Supremes, Tina Turner. That was the golden age of glamour and costuming. Everything was sequined and beaded and feathered.
Do you have a particular piece of your own that's your favorite from him?
Oh my God, yes. I have two. The first one was actually my entrance look for Drag Race. I found it at an auction house, and I had to have a friend go pick it up and overnight it to me so I could get it right before I left [for the taping] and get it altered and everything. It was originally made for Mitzi Gaynor, a showbiz legend. It's like wearing a piece of fashion history, as you can see from Carson's reaction to it — there's a reason why his jaw dropped.
It was definitely an unforgettable moment. 
So that's my baby. The second one was my reveal look. The fur coat that I wore, that's actually from Bob Mackie's personal collection, and matches a dress that Brooke Shields wore on the cover of Cosmopolitan in 1983. I know it's a lot of ancient history. It was sold to an auction house at some point, and I somehow got really lucky and came to it and had to have it.
So how big is your collection at this point?
It's more about the quality over the quantity. I'm always hunting the pieces that were couture-quality, especially his earlier pieces before his ready-to-wear line. And so those obviously are a lot harder to find, but I would say I have a good 13 couture-quality Mackie pieces.
Do you think you could ballpark what a collection like that is worth?
I read comments all the time on Instagram, asking me how much these are. I am a very thrifty bitch, okay? I have never had to lose an arm and a leg for these pieces. I'm a bargain hunter. I can't tell you how much my collection is worth because some of the pieces you can find online and those sellers are selling them ranging from like $1,000 to over $5,000. So it's really hard to say. I never had to pay that much at all for a Mackie piece. So that's why I'm very lucky. I'm a smart bitch. My momma taught me well.
I saw on your Instagram that you actually got a chance to meet Bob Mackie himself. Can you talk to me about that?
His PR agent Jenelle Hamilton noticed the pieces that I was sharing on Instagram and asked me if I wanted to be a special guest at the Chicago premiere of The Cher Show two years ago. It was nice getting to talk to him, and I wore a Mackie original which he recognized. He told me that the dress that I had on was originally made for his friend's wife, in white, and she would wear it to every party. Just hearing him give me that kind of backstory made me cherish the dress even more. I was just in awe of meeting him, and we got to go to the after-party together and he walked me through it. I felt like the queen of the world.
Is there one dream Mackie piece you can think of right now that you want for your collection?
He made a calendar in the nineties, and each month had an extravagant outfit. I want the look from December. It was like the goddess of winter. She was in this luxurious white fur coat with a hood. It really is everything. I have been trying to find that specific outfit for years. Hopefully whenever I get to meet Mackie again, he lets me borrow it for a photo shoot or something, because that is my dream piece.