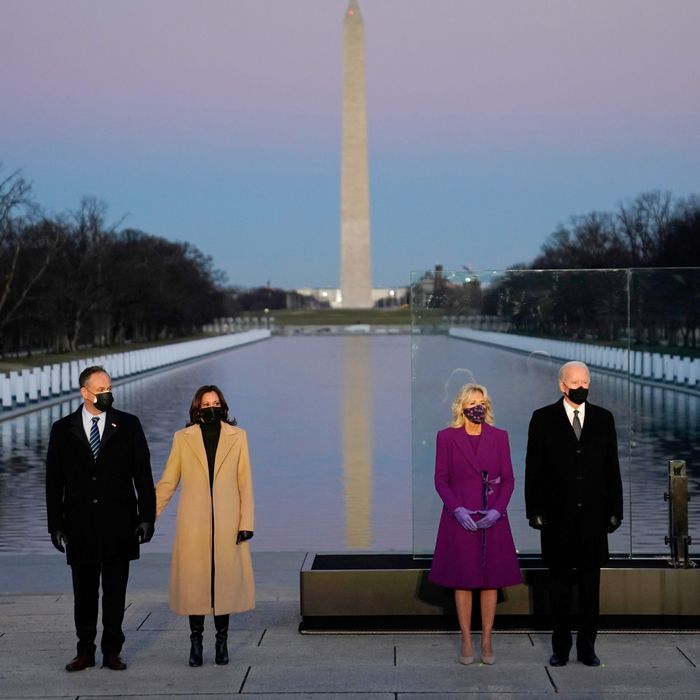 Photo: Evan Vucci/AP/Shutterstock
On Tuesday, the night before Inauguration Day, Vice-President-elect Kamala Harris and President-elect Joe Biden attended a COVID Memorial at the National Mall in Washington to honor and remember the more than 400,000 Americans who have died due to the pandemic so far.
The event was somber, dignified, profound — a tasteful display of empathy that Washington has so lacked over the last four years. It was also hopeful. Biden and Harris spoke about healing as a nation, and uniting in collective grief. As President Trump packed his bags at the White House, it was a moment to reflect, but also mark a new beginning.
Though obviously not the focus of this ceremony, both Harris and Dr. Jill Biden used fashion to set the tone. Harris wore a sharply tailored camel coat by the American designer Kerby Jean-Raymond of Pyer Moss with a black turtleneck underneath. (Not the occasion for Chucks.) The back of the coat was pleated, with a curving wave cutting across the shoulders, as opposed to a straight line — perhaps another symbol of turning a new leaf. Harris's choice of designer was poignant: Jean-Raymond is a Black designer whose work aims to challenge social narratives. During the darkest days of the pandemic in New York, where Pyer Moss is based, the brand converted its studio into a donation center for N95 masks and latex gloves. Jean-Raymond also said he set aside $5,000 to buy supplies himself, plus an additional $50,000 to aid minority-and women-owned creative businesses in distress.
Dr. Jill Biden's purple wrap coat was also notable. Her look was by Jonathan Cohen, another an American designer, whose work focuses on sustainability. The coat was made from fabric scraps from Cohen's studio. Some have interpreted the patchwork design as a symbol of American unity, as well as the color purple — the result of mixing red and blue. It is also associated with the women's Suffrage Movement.
Together, the Vice-President-Elect and the incoming First Lady seemed to signal that they will use their platform to highlight young, American designers with strong values over the next four years.