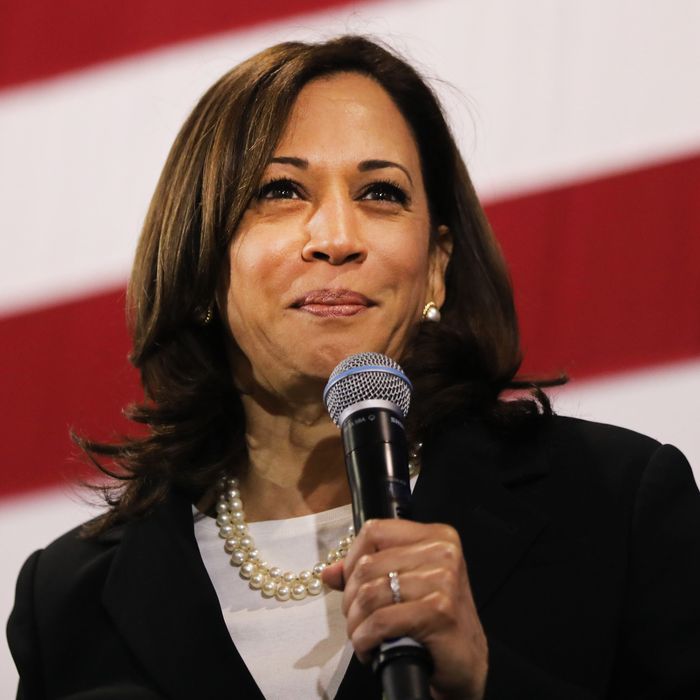 Kamala Harris.
Photo: Spencer Platt/Getty Images
For the first time in the history of the country, the vice president of the United States is a Black woman. Today, Kamala Harris was officially sworn in to occupy the nation's second-highest office, becoming the first woman, who is also Black and South Asian, to do so.
Harris's swearing-in ceremony commenced just before 11:45 a.m and was hugely historic. Supreme Court Justice Sonia Sotomayor, the first woman of color to serve highest court, administered the vice-presidential oath. For the ceremony, Harris elected to use two Bibles: one that belonged to Thurgood Marshall, the first Black Supreme Court Justice, and the other to a close family friend. Harris's swearing-in was followed by that of Joe Biden, who is now the 46th President of the United States.
Throughout her career, Harris has ascended to positions never before held by a woman, let alone a woman of color: She was the first woman and the first person of color to serve as San Francisco's district attorney, and later, as California attorney general; in 2016, she became the second Black woman and first person of South Asian descent to be elected to the Senate. When Harris formally accepted the VP nomination at the Democratic National Convention in August, she declared, "That I am here tonight is a testament to the dedication of generations before me." During an interview with NPR last week, Harris said that during her swearing in, she would be thinking of her mother, "who's looking down from heaven."
While the mere presence of a woman in the White House doesn't inherently translate to better conditions for all women, for many, today is a very significant occasion. "Just to be able to see a Black woman, an Indian American, a woman, hold the VP position — it's been a long time coming," Anita Ross, who is Black and Latina, told the Los Angeles Times after the Biden-Harris ticket won enough electoral votes to secure the offices. Across the country, many women are marking the occasion by wearing pearls and Chuck Taylors, Harris's signature accessories. One woman, Sandra Broome-Edwards, 67, told the New York Times that she was been wearing pearls every day since early January. "It's my way of acknowledging the momentous occasion that is coming," she said.
As the reporter Chelsea Janes notes in the Washington Post, Harris shoulders enormous expectations. "She carries the weight of being the first, the promise and peril of being different," Janes writes. "She will be dodging the vitriol of those seeking to derail her future ambitions, while shouldering the expectations of those who hope for her to rise even higher."
To be the first in anything carries great responsibility — but Harris has also viewed the opportunity optimistically, as one that will allow her to pave the way for other women who many want to follow her in path. "While I may be the first woman in this office," Harris vowed during her acceptance speech as vice-president-elect, "I will not be the last, because every little girl watching tonight sees that this is a country of possibilities."