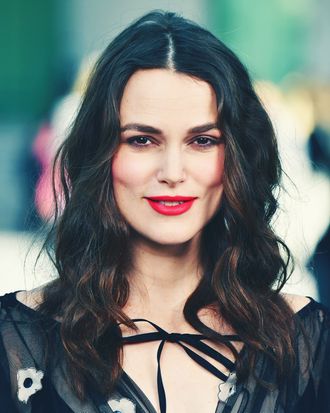 Keira Knightley.
Photo: Stephane Cardinale - Corbis/Corbis via Getty Images
Keira Knightley, the actress who brought us one of the most glamorous, silk-clad sex scenes in film history, says that she won't shoot sex scenes for films directed by men anymore.
On an episode of the Chanel Connects podcast, Knightley spoke with director Lulu Wang and writer Diane Solway and explained that, while she doesn't have "an absolute ban" on nude scenes, "I kind of do with men."
"I don't want it to be those horrible sex scenes where you're all greased up and everybody is grunting," she said. "I'm not interested in doing that."
Knightley said that she feels "very uncomfortable now trying to portray the male gaze," but added, "there's times where I go, 'Yeah, I completely see where this sex would be really good in this film and you basically just need somebody to look hot.'"
But those kind of sex scenes don't interest the Colette actress anymore. Part of this, she said, is the result of her own vanity, and the fact that her body "has had two children now and I'd just rather not stand in front of a group of men naked."
The story of a body that has had children is one she's interested in telling, though, albeit with a female director: "If it was about motherhood, about how extraordinary that body is, about how suddenly you're looking at this body that you've got to know and is your own and it's seen in a completely different way and it's changed in ways which are unfathomable to you before you become a mother, then yeah, I would totally be up for exploring that with a woman who would understand that."
Over the years, Knightley has written and spoken extensively about the challenges and double standards that women face in the workplace, and specifically on a film set. In a 2018 essay for the book Feminists Don't Wear Pink (And Other Lies), Knightley railed against the way women are supposed to "bounce back" immediately after giving birth, and the tiresome Madonna-whore dichotomy women are forced to navigate at work.
"They tell me what it is to be a woman," Knightley wrote. "Be nice, be supportive, be pretty but not too pretty, be thin but not too thin, be sexy but not too sexy, be successful but not too successful. … But I don't want to flirt and mother them, flirt and mother, flirt and mother. I don't want to flirt with you because I don't want to fuck you, and I don't want to mother you because I am not your mother. … I just want to work, mate. Is that OK? Talk and be heard, be talked to and listen. Male ego. Stop getting in the way."