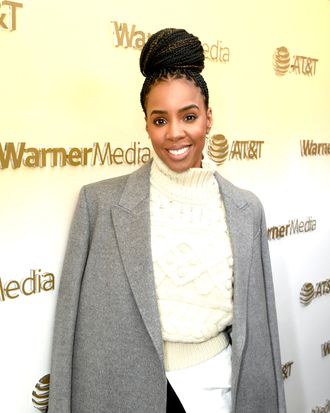 Kelly Rowland.
Photo: Vivien Killilea/Getty Images for WarnerMedia and AT&T
Hi yes hello, you know what time it is — it is time once again for a Celebrity Baby Alert: Kelly Rowland has just announced the birth of her second child, born on January 21, 2021. (Which is to say, on 1/21/21 — the symmetry!) The singer-slash-actor-slash-parenting-guide-author shared the news on Saturday, posting a photo of her two sons to Instagram.
"On the 21st day, of the 21st year, of the 21st Century, Noah Jon Weatherspoon
Greeted us!" she wrote in the caption.
"We are truly grateful❤️❤️❤️❤️"
Like so many celebs last year, Rowland kept her pregnancy a secret for months. She debuted her baby bump in a Zoom interview with Women's Health in October, nearly six months in. Rowland said she and her husband, Tim Weatherspoon, had been talking "loosely" about having another baby — their older son, Titan, is six — when the coronavirus pandemic began.
"We were just like, 'Let's see what happens,'" she said. Rowland got pregnant quickly, but initially, felt reticent to broadcast it amid a deluge of bad news. "But you still want to remind people that life is important," she explained. And on top of that, she added, "I was thinking, Oh my God, my fans are gonna be so disappointed … They wanted an album first, but they got a baby! And I was like, I have to figure this out so they get both."
Just for the record, though, the fans seem jazzed — at least based on the mountain of enthusiastic comments piling up under her post, which had received over a million likes at time of writing.
Over the course of quarantine, the Destiny's Child alum has released a handful of singles — including the very vibe-y "Coffee," which Rowland told the Cut "made me feel like I could find that flow" in her sexuality — with her fifth studio album reportedly coming soon. In the meantime, big congrats on the new baby!