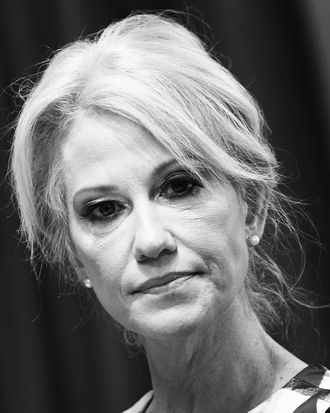 Kellyanne Conway.
Photo: MANDEL NGAN/AFP via Getty Images
Police in Alpine, New Jersey, say they have launched an investigation after a topless photo of Kellyanne Conway's 16-year-old daughter, Claudia, was reportedly posted to Kellyanne's official Twitter account.
"An investigation is being conducted. No additional information can be released," Alpine police chief Christopher Belcolle told the New York Post. Additionally, the New Jersey Department of Children and Families is "looking into all the concerns around the incident," a representative confirmed to BuzzFeed News.
According to the Post, four police officers showed up at the Conway mansion in Alpine on Tuesday morning and spent about an hour inside before leaving.
The photo was reportedly posted on Monday night as a Fleet — Twitter's temporary posts that stay up for only 24 hours, like Instagram Stories — and quickly deleted. But numerous users had already seen it and reported it to Twitter, which says it has a "zero-tolerance child-sexual-exploitation policy."
Shortly after, Claudia Conway addressed the incident in a since-deleted TikTok, telling her 1.6 million followers that she believed her mother had gotten hold of the picture during one of the times she confiscated her daughter's phone and that it had been posted to Kellyanne's Twitter either by accident or by hackers. "I'm assuming my mom took a picture of it to use against me one day and then somebody hacked her or something," she said, according to Vulture. "I'm literally at a loss for words."
Claudia walked back her comments the next day, saying in another TikTok, "I know that my mom would never, ever post anything to hurt me like that intentionally, and I do believe she was hacked."
The Post's story comes in the wake of a January 22 TMZ report that claimed Kellyanne was under police investigation "after Claudia secretly recorded and posted a video showing her mom screaming and swearing at her." Alpine police did not respond to multiple requests for comment from the Cut.
On January 19, Claudia posted a since-deleted TikTok containing footage from several incidents. In one of the clips, someone who seems to be Kellyanne can be heard calling the teenager a "bitch," a "dumbass," and an "asshole" and telling her, "Ungrateful bitch … you're lucky your mom's pro-life."
In a subsequent video, Claudia explained her decision to post the footage, which she said had been filmed over the course of several years. According to a transcript from Vox, Claudia says, "I'm not looking to hate on my mom, I just think it's important to tell my side of the story and my experience." She adds, "I thought it was important because, as a woman who has such power in this country, I don't think people really know how she is."
The Conways' family disputes have made headlines for years. Kellyanne's husband, George, was a vocal critic of his wife's ex-boss, President Trump, and helped found the anti-Trump conservative group the Lincoln Project. Claudia has also repeatedly expressed her objections to her mother's job, tweeting about how much she hated the president as well as writing that she was pushing for emancipation after "years of childhood trauma and abuse."