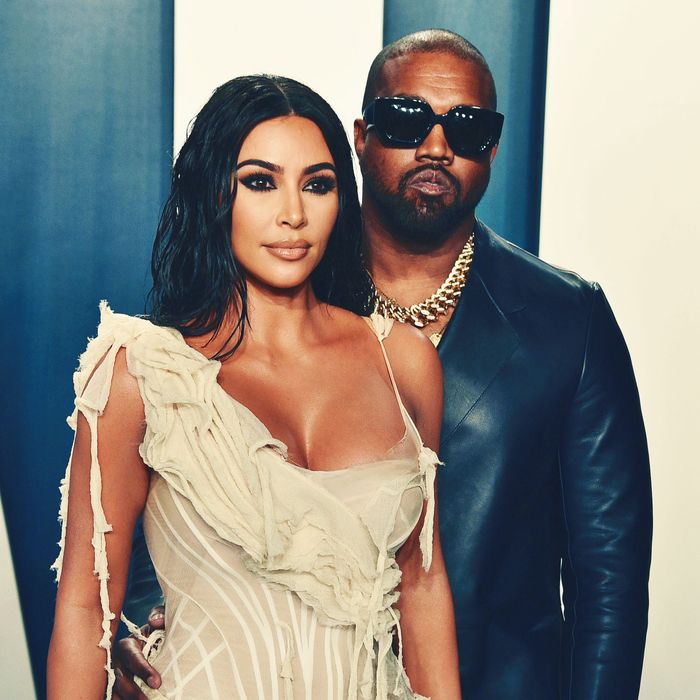 Kim and Kanye.
Photo: David Crotty/Patrick McMullan via Getty Images
So yes, I realize there are more important things happening right now, but: Remember how Kim Kardashian and Kanye West were supposedly getting divorced? Remember that spate of reports from January 5 alleging that Kim is "done" and "Kanye knows that she's done" and the official split would be "imminent"? But then … nothing? Maybe you hadn't really paused to consider the informational drought that ensued, but now that you have, you'd assume the next day's attempted siege of the U.S. Capitol had simply drowned out the Kimye news cycle. Well, according to "Page Six," there is another possible reason for the radio silence — namely, that the details of the divorce will (allegedly) drive the final season of Keeping Up With the Kardashians.
In a new "exclusive," the tabloid column reports that "the disintegration of Kim and Kanye's marriage will feature heavily" in season 21's story line. The couple are reportedly negotiating a settlement and dividing their assets but keeping the particulars under wraps until a dramatic televised reveal. A source close to Kanye allegedly told Us Weekly that he is "less than thrilled" about this approach and that he did not participate in the "emotional final episode."
Meanwhile, an alleged insider told "Page Six," "The Kardashians intend to go out with a bang. They've filmed Kim discussing her marriage problems. But everybody involved is on a nondisclosure agreement, because the finale won't screen until later in 2021."
As to the reasons for the split, "Page Six" (which first reported the news) initially attributed the couple's rumored marital strain to Kanye's presidential bid and a rift that deepened after he aired deeply personal details about their relationship at rallies and online. Publicly, Kim asked for "compassion and empathy" as Kanye managed his bipolar disorder; privately, the pair reportedly grew further apart. Earlier this month, "Page Six" sources said Kanye was "completely over the entire family" and the reality-TV lifestyle. Can't imagine why!