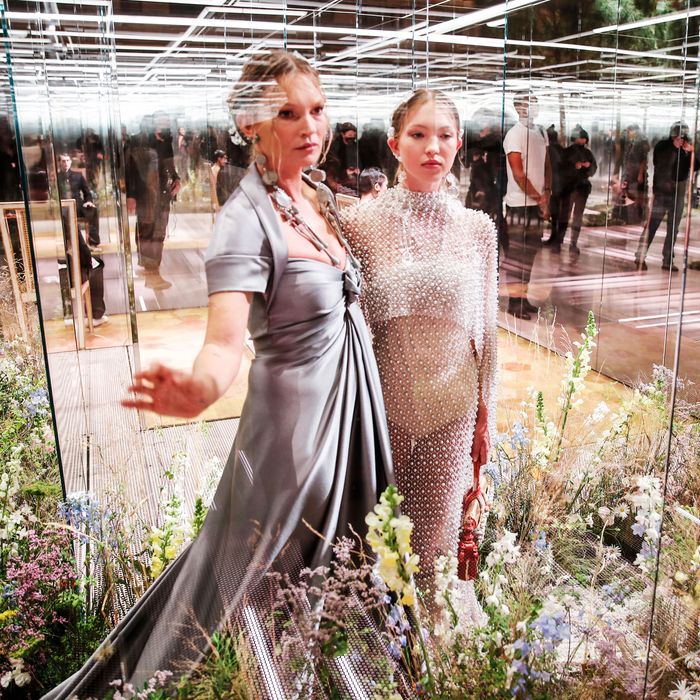 Kate Moss and her daughter Lila Grace Moss.
Photo: Francois Mori/AP/Shutterstock
Ever since Fendi announced that Kim Jones would take over Karl Lagerfeld's role as women's artistic director, the fashion industry has been waiting to see what Jones could do. (Lagerfeld, after all, held the job for 54 years, only vacating it upon his death in 2019.) Today, that moment finally arrived with Fendi's spring 2021 haute couture collection.
It's a significant moment not only for Fendi, but also for Jones, who's never made a full women's collection or designed couture. For seven years, he held the role of Louis Vuitton's menswear designer; he has been Dior Men's creative director since 2018. In both positions, he brought the LVMH-owned brands into a new age by mixing streetwear with traditional tailoring. As a sort of play on his transition into womenswear, Jones said one of his inspirations for the collection was Virginia Woolf's Orlando, a novel about gender fluidity and Woolf's tryst with Vita Sackville-West.
Jones still has a knack for making social-media moments by involving his famous friends — like supermodels Naomi Campbell, Christy Turlington, Bella Hadid, Cara Delevingne, and Adwoa Aboah. Plus, Kate Moss and her daughter, Lila Grace Moss, modeled together for the first time ever. And Demi Moore casually made her runway debut, opening the show.
"Fendi represents artisanal quality of the highest order, and it is all about family," Jones said in the show notes. "It is in its third generation with a Fendi at its helm, and I am guest starring while bringing in the fourth. Here, I am surrounded by strong, powerful women who I love and respect, and want to bring their energy into what I do."