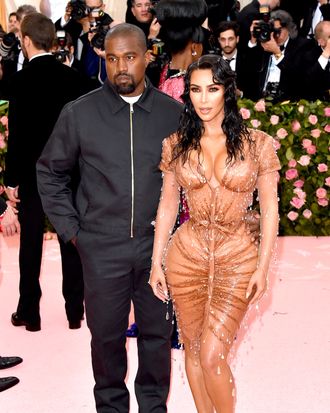 Kanye West and Kim Kardashian.
Photo: John Shearer/Getty Images for THR
After nearly seven years of marriage, four children, and 14 gorgeous Friesian horses, Kim Kardashian and Kanye West seem set to divorce, at least according to "Page Six." The outlet cites multiple unnamed sources who called an official split "imminent," with Kim having allegedly retained prominent divorce attorney Laura Wasser to help her negotiate the settlement. One source told "Page Six" that Kanye retreated to his luxury Wyoming ranch for the holidays at Kim's request, "so they could live separate lives and quietly get things sorted out." The source added: "She's done."
Shortly after "Page Six" published its report, People's sources confirmed that Kanye "knows that she's done," and that Kim "told him that she wants some space to figure out her future." According to this individual, Kanye is "sad, but okay. He knows the inevitable will happen, and he knows that [the filing is] coming soon," if not exactly when.
Recent reports have indicated that the couple, who started dating publicly in 2012 and married in 2014, have been "doing their own thing" lately and "spend[ing] a lot of time apart." Kanye's presidential run is said to have strained their relationship, particularly after the rapper began airing very personal details about their marriage on Twitter and at a rally in July. At the time, Kim asked for "compassion and empathy" in regard to Kanye's mental health in a rare public statement, and they reportedly tried to salvage things over the summer.
But according to "Page Six," Kim has "just had enough" at this point, while Kanye "is completely over the entire family" and the reality-television experience. The tabloid pointed to Kim's 40th birthday in October, when — "after two weeks of multiple health screens and asking everyone to quarantine" — she famously "surprised [her] closest inner circle with a trip to a private island where [they] could pretend things were normal just for a brief moment in time." A "Page Six" source said Kanye made only a brief and reluctant appearance: "He showed up late and left early, he wouldn't appear in any of their Instagram shots." Apparently, he stayed only long enough to present Kim with her gift — a hologram of her late father, Robert Kardashian — "then got out of there as fast as he could."
Neither Kim nor Kanye have commented on the report, and as of Tuesday night, celebrity-news outlets differed on the state of Kimye's union. TMZ reports that the couple is in marriage counseling, with "divorce on the table." Meanwhile, E! News contends that Kim has delayed filing because "she wants to make sure she's making the right decision for the kids" — North (7), Saint (5), Chicago (2), and Psalm (20 months).
"Kim knows the marriage is over. She's known for a while," an E! source said. "Kim is only focused on what's best for the kids. It's a tough decision for her and she's figuring it out."