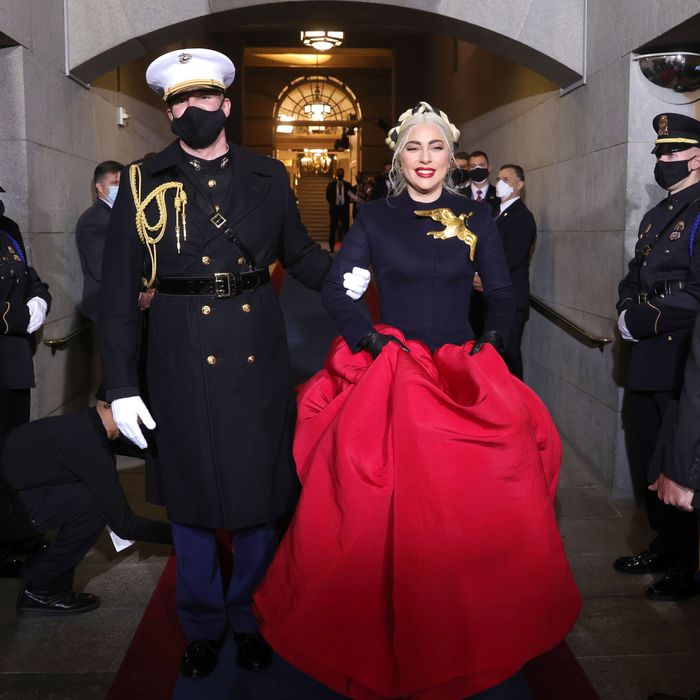 Our Lord and Savior, Lady Gaga.
Photo: Win McNamee/Getty Images
On Wednesday, Lady Gaga held a highly exclusive, one-time-only concert at the U.S. Capitol. The event included special-guest performances, including the swearing in of President Joe Biden and Vice-President Kamala Harris.
The Chromatica singer did not perform any songs from her latest album but instead sang a single tune: the national anthem. She wore an over-the-top gown with a fitted bodice in navy cashmere and a voluminous skirt in red silk. Completing the elegant Americana look was a massive golden brooch of a dove with an olive branch.
Viewers noted that the brooch looked straight out of The Hunger Games, in which the heroine, Katniss Everdeen, wears a gold pin of a fictional bird, the mockingjay, as a symbol of hope and unity for the oppressed citizens of Panem. Of course, Gaga was not wearing a mockingjay pin, and fortunately Trump was voted out of office before the U.S. really did turn into a dystopia. Gaga's big dove was, more likely, an allusion to the dove that appears to Noah after the flood in the Bible — a historic symbol of hopeful times ahead. But both birds seem fitting as we enter a new era under a new administration.
The look was custom Schiaparelli haute couture designed by creative director Daniel Roseberry, who summed up the event in a statement to the press: "God bless Lady Gaga, and God bless America."
In the name of the Father, and of the Son, and of the Lady Gaga. Amen.