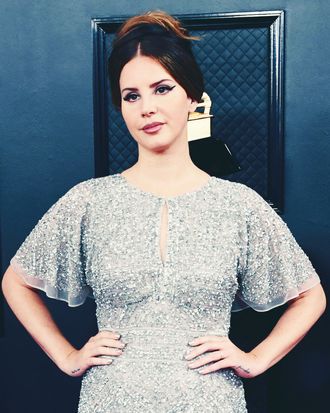 Photo: Jon Kopaloff/FilmMagic
Lana Del Rey is all set to release her highly anticipated new album, Chemtrails Over the Country Club, on March 21. On Monday, she dropped its cover art, track list, and a music video on Instagram. And rather than leaving it at that, she included a meandering comment preemptively defending herself against "a WOC/POC issue."
What is the "WOC/POC issue"? you might ask. And what does it have to do with her new album? Indeed, the comment is curious, but it's only the latest in a string of them that are making for a frankly disastrous album rollout.
What is the "WOC/POC issue" Lana is defending herself against?
It all began over the summer, when Lana was criticized for glamorizing abuse in her music with such lyrics as: "He hit me and it felt like a kiss" and "He hurt me but it felt like true love." In response, she took to Instagram with a lengthy statement.
Why, she asked in the statement, do artists like Beyonce, Megan Thee Stallion, Doja Cat, Nicki Minaj, Ariana Grande, Camila Cabello, and Kehlani, get to have number one hits with songs about "being sexy, wearing no clothes, fucking, cheating, etc.," and Lana can't have the same courtesy extended when singing about "challenging relationships"? Why, she asked, is there no "place in feminism for women who look and act like" her?
She continued for some 500 more words, complaining about the criticism and sexism and silencing she faced, and failed to note, or even perhaps recognize, that many of the women of color she mentioned in her opening paragraph might also experience those things. The statement was criticized for being tone deaf and racially insensitive, which compelled Lana to take to Instagram yet again to defend herself as "definitely not racist" and "a girl's girl" in a video.
What does Lana's "WOC/POC issue" have to do with Chemtrails?
Well nothing, really, but she brought it up herself in an Instagram comment pegged to the release of the album's cover art. In a black-and-white image, it shows a group of women wearing retro dresses and gathered around a picnic table.
"Yes there are people of color on this records picture and that's all I'll say about that but thank you," she wrote, referring to the scene.
"These are my friends this is my life … We are all a beautiful mix of everything — some more than others which is visible and celebrated in everything I do."
The comment seemed to be Lana's attempt to get ahead of any criticism. "Before you make comments again about a WOC/POC issue, I'm not the one storming the capital, I'm literally changing the world by putting my life and thoughts and love out there on the table 24 seven," she wrote.
She also attempted to prove her allyship with lines like, "In 11 years working, I have always been extremely inclusive without even trying to. My best friends are rappers my boyfriends have been rappers."
You can read the comment in full here.
Hm. Ok. And didn't she say some stuff about Trump as well?
Oh, yes. On Monday, Lana joined BBC One to address the album-cover controversy that she herself created. She also weighed in on Donald Trump, sharing her belief that the Trump presidency was a necessary evil:
The madness of Trump, as bad as it was, it really needed to happen. We really needed a reflection of our world's greatest problem, which is not climate change, but sociopathy and narcissism. Especially in America. It's going to kill the world.
Anything else?
That's pretty much it for now, but her album won't come out for several months. Unless she gets off of social media, it seems like this train wreck of a rollout might get even messier.