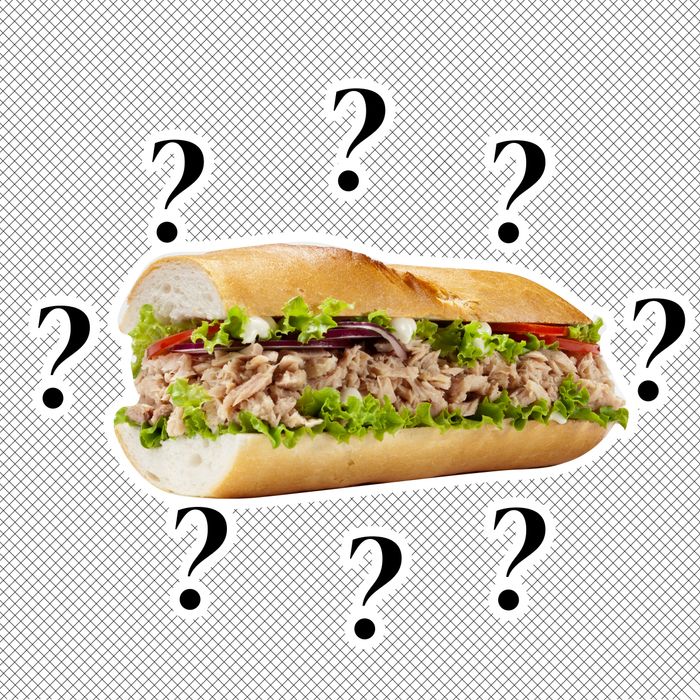 Who is she?
Photo-Illustration: byThe Cut; Photo: Getty Images
A question that is becoming more difficult to answer by the day: What, exactly, is in a Subway sandwich? The answer, of course, would (or should) come down to the ingredients you choose. But basics such as bread have recently come under scrutiny, and now, the spotlight turns to tuna. According to a new lawsuit, Subway's tuna sandwiches contain "no scintilla of tuna at all" — "anything but tuna," in fact.
"We found that the ingredients were not tuna and not fish," attorney Shalini Dogra told the Washington Post, declining to disclose the specifics.
On those grounds, plaintiffs Karen Dhanowa and Nilima Amin reportedly feel that they "were tricked" into spending extra for what they believed to be tuna, a healthier option than cold cuts. But after testing "multiple samples" of Subway tuna sourced from all over California, the lawsuit claims, it appears that what the restaurant bills as "flaked" wild-caught tuna may actually be "a mixture of various concoctions that do not constitute tuna, yet have been blended together by defendants to imitate the appearance of tuna."
To my mind, canned tuna is a difficult food to fake, particularly if you are not allowing yourself to swap in other kinds of fish. I mean, when food that is not fish smells fishy — when it has a distinctive, pungent sea tang but nothing in it came from the sea — that can be a sign that you should not put it in your mouth. So: Just what the hell is in the tuna??
Unfortunately, the lawsuit kicks this question wide open but provides no concrete answers. Subway, meanwhile, stands by its product. "Tuna is one of our most popular sandwiches," Katia Noll, senior director for global food safety and quality at Subway, told the Washington Post. "Our restaurants receive pure tuna, mix it with mayonnaise and serve on a freshly made sandwich to our guests." In a statement to the New York Post, a Subway spokesperson called the allegations "baseless" and "frivolous."
Still, this is not the first time Subway has faced ingredient-fraud allegations: In 2014, the sandwich altered its bread recipe after a food blogger noticed that one of its components was also used to make yoga mats. In 2020, an Irish court ruled that Subway couldn't legally call its bread "bread," because its makeup more closely resembles cake. In 2017, the Canadian Broadcast Corporation tested samples of the chain's chicken, and found they contained about 50 percent chicken DNA. Subway sued for defamation in response. Then there is also the question of its truthfulness regarding sandwich length to consider. In 2013, a cohort of dissatisfied customers filed an ultimately unsuccessful lawsuit claiming that the $5 Footlongs were actually closer to 11 or 11.5 inches. Scandal!
Anyway, if you or someone you love purchased and ate a Subway tuna sandwich or wrap in the state of California between now and January 21, 2017, you could be entitled to compensation, if the plaintiffs' class-action request is granted, and if a court ultimately agrees that the tuna is neither tuna nor fish. Stay tuned.