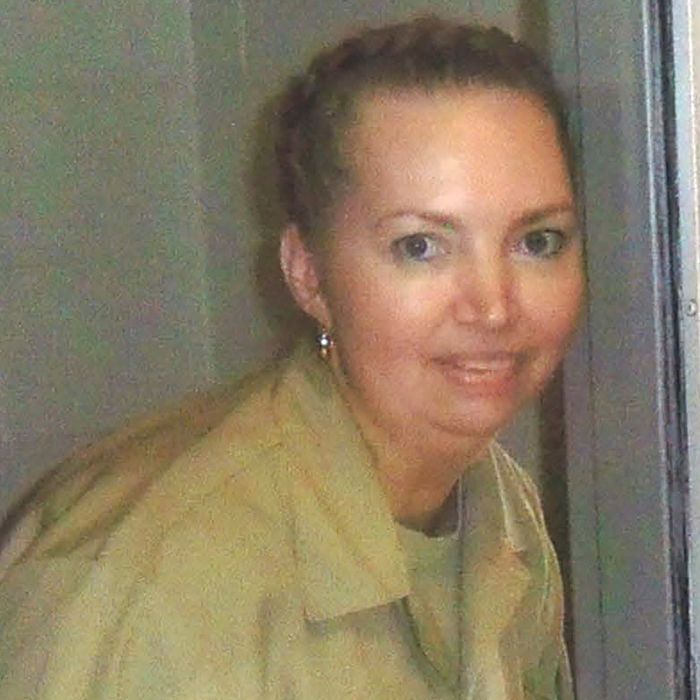 Photo: Courtesy of Attorneys for Lisa Montgomery/via REUTERS
At 1:31 a.m. today, the federal government executed Lisa Montgomery by lethal injection. Montgomery was the only woman on death row, and is the first woman to be federally executed in nearly 70 years. She was sentenced in 2007 for murdering a pregnant woman and removing her unborn child from her body. Montgomery's lawyers argued she was severely incompetent for execution, citing mental illness and a long history of brutal trauma. It didn't matter.
Every aspect of Montgomery's case is tragic. At age 38, she was accused of meeting a woman named Bobbie Jo Stinnett at her home in Skidmore, Missouri, after making contact with her under a pseudonym in an online chat room for rat-terrier enthusiasts. In Stinnett's apartment, Montgomery strangled her, then used a knife to cut out her unborn child, which she took home and claimed as her own. The child was rescued, and survived. Montgomery was convicted of kidnapping resulting in death, a federal crime that carries the death penalty.
Montgomery had "bipolar disorder, temporal lobe epilepsy, complex post-traumatic stress disorder, dissociative disorder, psychosis, traumatic brain injury, and most likely fetal alcohol syndrome," per the New York Times. Advocates say she was tortured, raped, and abused her entire life; her mother once told investigators that her first words were, "Don't spank me. It hurts." Starting at age 13, Montgomery was sexually abused by her stepfather, who built a room in their trailer in which to rape her. Lawyers say her mother forced her to have sex with other men in order to "pay the bills." Montgomery married at age 18 to escape her home, but her husband was viciously abusive, too, raping and beating her and videotaping the attacks.
But Montgomery's lawyers didn't bring up her abuse at all during her first trial. Instead, they first tried to line up a defense that her half-brother Tommy had killed Stinnett, even though he had an alibi. Just a week before trial, they prepared a defense that Montgomery was not guilty by reason of insanity, but her family refused to testify on her behalf. The jury convicted her.
Experts who examined Montgomery say she often disassociated from reality as an adult because of trauma, and that she also suffered permanent brain damage from physical abuse. "But before her trial, neither the prosecution nor the defense had investigated the relationship between Montgomery's many symptoms and her appalling history," writer David Rose argued in The Guardian. "She had seemed to the jury impassive and unemotional, as if she bore no remorse. In fact, this was the result of powerful antipsychotic medication … The evidence that Lisa Montgomery was a victim as much as a perpetrator should have been overwhelming."
On Monday night, a federal judge in Indiana issued a stay so that the court could conduct a hearing to determine Montgomery's competency. An appeals court vacated that stay on Tuesday, saying that it could only overturn the "norm" of execution in "extreme exception." The execution moved forward. A media witness to Montgomery's killing by lethal injection wrote on Twitter, "As the execution process began, a female executioner standing over [her] shoulder leaned over, gently removed Montgomery's face mask, and asked her if she had any last words. 'No,' Montgomery responded in a quiet, muffled voice. She said nothing else."
Montgomery's execution by the Trump administration follows those of Daniel Lee, Wesley Purkey, Dustin Honken, Lezmond Mitchell, Keith Nelson, William LeCroy, Christopher Vialva, Orlando Hall, Brandon Bernard, and Alfred Bourgeois. These killings are being carried out at an unprecedented rate: Federal government lawyers have been literally working around the clock to execute people being held on death row, even during a presidential transition, something that hasn't happened in the last 130 years. The level of unnecessary cruelty at work is hard to fathom, as family members of those remaining incarcerated await their possible executions. Two more are scheduled this Friday.
Advocates are calling on Joe Biden to enact a death-penalty moratorium on his first day as president and end the horrifying spree. "The craven bloodlust of a failed administration was on full display tonight," Montgomery's lawyer Kelley Henry said in a statement after her killing. "Everyone who participated in the execution of Lisa Montgomery should feel shame."