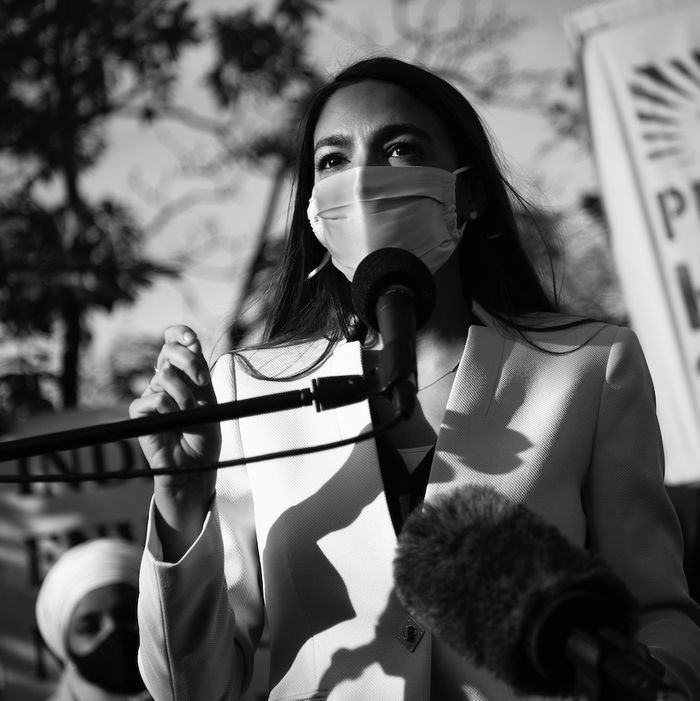 Alexandria Ocasio-Cortez.
Photo: Caroline Brehman/ 2020 CQ-Roll Call, Inc.
So far, at least 125 people have been arrested and charged in connection with the January 6 attack on the United States Capitol — including a man the Justice Department says tweeted a call to "assassinate" New York representative Alexandria Ocasio-Cortez that day.
NBC reports that 34-year-old Garret Miller, of Texas, posted openly and often about his involvement in the riot, landing him on law enforcement's radar. He was arrested Wednesday in Dallas, and federally charged on Friday with knowingly entering or remaining in any restricted buildings or grounds without lawful authority; violent entry and disorderly conduct on Capitol grounds; obstructing or impeding any official proceeding; certain acts during civil disorder; and threats in interstate commerce.
According to court documents, his social-media activity on the day of the attack and in the days that followed made clear he was an enthusiastic participant. On January 11, the DOJ contends, Miller posted a selfie to Facebook taken inside the rotunda, commenting underneath: "just wanted to incriminate myself a little lol." He featured repeatedly in surveillance footage, and allegedly also bragged about "charg[ing] the back gates" and "storm[ing]" Congress. On the evening of the attempted siege, when AOC tweeted "impeach" in response to the day's events, Miller reportedly replied: "We acted with honor and we where [sic] not harmed. We where [sic] gentle with the police. They murdered a child. … Assassinate AOC."
That is not the only instance of Miller advocating for violence on social media, per the court documents: On January 10, he allegedly discussed a Capitol Police officer who shot a woman during the riot. "We going to get a hold of [the USCP officer] and hug his neck with a nice rope," he said, according to the DOJ, which notes that Miller purportedly had rope in his bag that day. On January 16, he apparently reiterated these sentiments on Facebook, claiming that the officer is "not going to survive long" because "its [sic] huntin season."
Miller's attorney, Clint Broden, told the Guardian that "the charges are based on an inappropriate comment made in the heat of the moment on Congresswoman Ocasio-Cortez's Twitter feed," adding his client "regrets the actions he took in a misguided effort to show his support for former President Trump."
"His social-media comments reflect very ill-considered political hyperbole in very divided times and will certainly not be repeated in the future," Broden said. "He looks forward to putting all of this behind him."
But particularly for members of "the Squad," whom Trump constantly maligned and singled out, the insurrection presented very real danger. "I can tell you that I had a very close encounter where I thought I was going to die," Ocasio-Cortez said in an Instagram Live after the fact. "I did not know if I was going to make it to the end of that day alive." Meanwhile, someone tore all the panic buttons out of Massachusetts representative Ayanna Pressley's office. And as Congresswoman Pramila Jayapal subsequently told the Cut: "I think we all understand, but particularly as a woman of color and an immigrant woman of color, what happens when you have white nationalist, armed, violent individuals. The threat is extremely real."