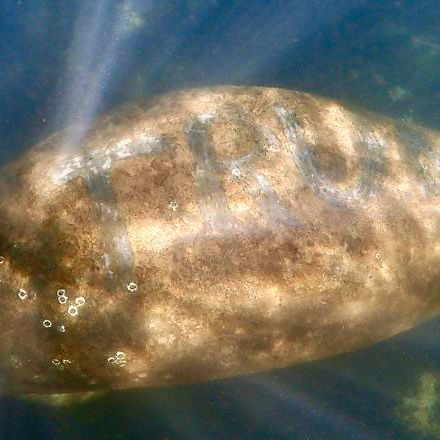 The manatee with "Trump" etched into its back.
Photo: Citrus County Chronicle
A manatee with "Trump" scraped into the span of its back was found in Florida's Homosassa River over the weekend, prompting widespread shock and horror, with one conservationist calling the disfigurement "beyond the bounds of what is considered cruel and inhumane." The disturbing footage was first reported by the Citrus County Chronicle, and now the New York Times reports that federal wildlife authorities are seeking the perpetrators, who appear to have violated both state and federal law.
In the current assessment of the U.S. Fish and Wildlife Service, which is investigating the mutilation of the manatee, Trump's name "was written in algae on the animal's back," and it does not appear to have sustained any serious injuries. But as Ruth Carmichael, a professor of Marine Sciences at the University of South Alabama, told Vice, "It is harassment regardless."
Carmichael continued: "If the scrape penetrates the skin, then it likely caused some pain and stress. The animals have nerves and sensory hairs in the skin. Additionally, open wounds could become infected." Douglas Nowacek, a professor of Conservation Technology at Duke University, told Vice the incident was "one of the most horrifying things I have ever seen done to a wild animal."
To a certain extent, the severity of the injuries sustained by the mammal is irrelevant — mere harassment of a manatee carries serious legal repercussions. Only 6,300 manatees currently live around Florida, according to the U.S. Fish and Wildlife Service's current tally, and the mammals are classified as threatened. They're also protected under multiple acts: the federal Endangered Species Act and Marine Mammal Protection Act, as well as the Florida Manatee Sanctuary Act of 1978, which states that "it is unlawful for any person, at any time, intentionally or negligently, to annoy, molest, harass, or disturb any manatee."
According to the New York Times, a person who breaks the state law could face up to a $500 fine and 60 days in jail; if convicted under federal law, the fine jumps to $50,000, and the sentence is a year in prison.
At this time, it is unclear if the federal agency has made any headway on its investigation or identified any suspects. In an interview with the Chronicle, Craig Cavanna, the senior federal wildlife officer who's investigating the incident, declined to comment on the specifics of their inquiry. He did, however, says that an act of this nature is "very out of character for this community," implying that the perpetrator (or perpetrators) did not reside in the area.
"Wildlife conservation is a core value in Citrus County," he continued. "That's why it's called the Nature Coast."