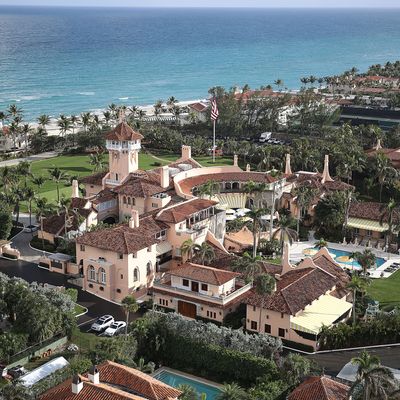 Mar-a-Lago.
Photo: Joe Raedle/Getty Images
Even amid some of the most erratic periods of Donald Trump's presidency, his members-only club of Mar-a-Lago maintained its appeal to a distinct cohort of people. Those who aligned with Trump politically, or were at the very least willing to overlook the irreversible damage inflicted by his policies — and were also able to shell out as much as $200,000 for membership —stuck around. But now that Trump has moved into the glitzy estate in Palm Beach, apparently it's hemorrhaging members.
Over the weekend, Laurence Leamer, author of Mar-a-Lago: Inside the Gates of Power at Donald Trump's Presidential Palace, went on MSNBC to discuss the overall mood at Trump's exclusive resort, which can succinctly be described as not good. While many members began steering clear of the club earlier this month, following the insurrection at the U.S. Capitol, Leamer says that Mar-a-Lago has turned into "a very dispirited place" since Trump settled in full-time and that "a lot of people" have "silently walked out" of the club.
"They don't want anything to do with Donald Trump," Leamer said. In fact, following the Capitol riot, during which five people died, neither do many people in Palm Beach. "Nobody that I've spoken to is looking forward to him coming back to Palm Beach," Richard J. Steinberg, a real-estate broker who works in Palm Beach and New York, told the New York Times. Since the insurrection, 1,488 local Republicans have left the party, according to the Palm Beach County elections supervisor's office. Yesterday afternoon, two planes glided across the sky carrying banners directed at Trump, calling him a "pathetic loser" and "the worst president ever." (Of course, many of his most ardent supporters on the island, long a winter playground for the affluent, remain loyal.)
Perhaps no one wants to live in such close proximity to a high-profile, widely loathed loser. Though some of this disdain predates the insurrection and the president's loss of power. In December, Trump's neighbors delivered a formal letter to the town of Palm Beach arguing that Trump could not permanently reside there because that would be a violation of an agreement he made with the town in 1993. Indeed, it might be, and to this day, it remains unclear whether officials on the island will enforce the pact.