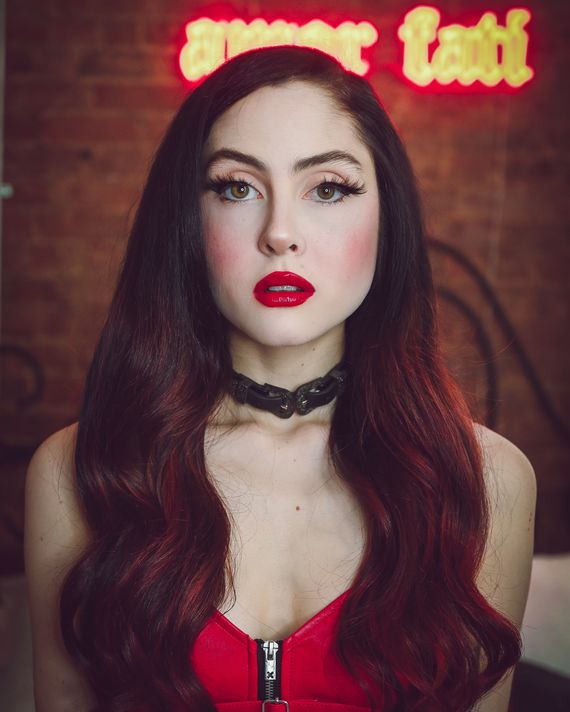 Maren Altman says she was initially pretty skeptical of TikTok. Still, when a friend enlisted her to perform one of the app's many choreographed dance routines while on a trip to Sedona last February, she agreed. The experience — she says she spent the dance hiding in the corner — didn't exactly win her over. "I kind of brushed it off. I didn't know much about the app. I thought it was younger," says Altman, a 22-year-old professional astrologer who now has a million followers interested in what she has to offer.
Superficially, there is much that makes Altman so watchable: She's beautiful, with glossy brown hair, perfect cat's-eye makeup, and highlighted cheekbones. When we speak, she's makeup free and wearing a black sweatshirt, but on TikTok she wears red and black lingerie and, on a few occasions, a white bikini with text that reads Father on one cup, Son on the other, and Holy Spirit on the crotch. She is skillfully expressive and, perhaps most important, authoritative in her delivery. She doesn't always speak — she often bows to TikTok trends, lip-syncing popular lyrics or movie dialogue — but when she does, she sounds like a debate-team champion crossed with Daria. I've never once witnessed her say "Um." She knows her appearance works in her favor, as do her non-political videos, in which she tells viewers flattering things about themselves and their sun signs. But these are means to an end — the end being, she says, "basically an astrological education empire."
Altman admits interpersonal astrology (which signs should "fuck, marry, kill" each other, for instance) interests her less than astrological systems, or the planetary patterns astrologers use to predict historic events. In early November, not long after she predicted Biden's win, Altman posted a video foreshadowing a "shitshow" election, Trump's refusal to concede, and an ensuing uprising. She foretold that the COVID-19 vaccine's arrival might be "too late" — a prophecy that feels chilling given the virus's current spread. The confidence on display in each bite-size video is arresting, even if her predictions don't seem entirely out of reach for someone following world events closely — and her conclusions are correct often enough for her followers to bestow her with some amorphous authority. As comedian Becca O'Neal once observed, the same is more or less true of Nate Silver.
Now ten months into her TikTok career, Altman says she's fielding DMs from companies who want her to shift over to an app of her own à la Susan Miller, of whom Altman is aware, if not exactly a fan. "I don't follow her. I tend to look more to financial astrologers," she says, citing influences like Ray Merriman and Twitter user @AstroCryptoGuru, who make economic predictions based on planetary movements.  Asked how their work differs from the more woo-woo, pastel-pink-branded astrology more popular in women's media, Altman replies, "It's like comparing Fisher-Price to a Tesla," before adopting a diplomatic tone to add, "Not that one is better or worse."
But while Altman's stated interests are politics and finance, she initially lured her TikTok audience with straightforward zodiac-sign comparisons ("Scorpio vs. Gemini in love"). After the trip during which she tested the TikTok waters, she returned home to New York just as the city was beginning to shut down. Then a senior at NYU, she found herself with considerably more time in her apartment, alone, with plenty of time to try out a new app. No stranger to social media, she already had a considerable backlog of vegan- and astrology-focused YouTube videos, which hadn't yet found an audience. Her TikTok was different. She "pretty immediately" blew up, initially thanks to "8-year-olds," she speculates, who didn't understand that videos like "Why I Hate Your Zodiac Sign"' were meant to be tongue in cheek.
A keen businessperson, she used familiar modes of astrology to build an audience, then distinguished herself by expounding on global politics and bitcoin. She considers the more viral, simplistic videos she started with as a gateway to her headier political theorizing, and she continues to do them.
She also sees those simpler videos as free advertising for the brand she's been building, in her telling, since infancy. Altman is a natural-born moneymaker who started charging people for astrology readings at parties in high school: $30 for 30 minutes of her time. "I knew if I was taking my time and effort, I was going to monetize it," she explains. Tagging along with her father on golf outings as a child, Altman would retrieve lost golf balls from the brush, brand them, and sell them to friends and family. She started selling unwanted clothes online as soon as she learned about eBay, at 14. Last spring, she graduated from NYU with a B.A. in philosophy, entering the worst job market in not so recent history. What better time to launch an online divination business geared toward the unmoored masses?
Altman's Astrology Academy, founded summer 2020, is an online tiered library of sorts encompassing "dozens of hours" of lectures (read at your own pace), weekly calls with Altman herself, and membership in a community Facebook group. It promises prospective students the ability to read astrological charts, if little else. Unlike her TikTok, her school is strictly business ("There's no laughing in it," she says. "It's a lot of charts and lectures.). The academy isn't accredited, but neither is any other astrological certification program out there — and most of those, says Altman, are for old people. "I don't know anyone under the age of like … 30, maybe 40 even, who has either gotten the certification or who's renewed it after getting it once," she says. "You often have to pay dues to stay in these organizations, and they're run by people that are very, very old."
Anyone can join Altman's academy, either for 12 monthly payments of $139 or a onetime payment of $1,499. In the three months since she's launched the membership program, Altman says she's had five-figure months, though she declines to provide financial records. She's had to hire an accountant and a marketing manager, and her dad, a real-estate developer, helped her file for a corporation. She's done all this from her apartment in Manhattan, where, she says, "I've literally been so, so alone since February."