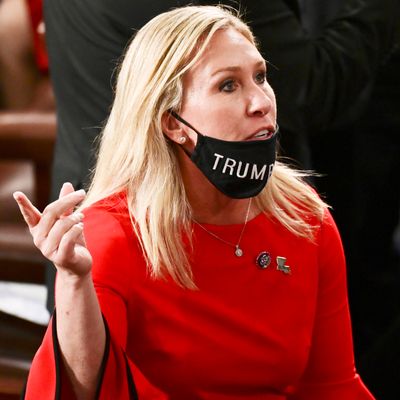 Marjorie Taylor Greene.
Photo: Pool/Getty Images
Before joining Congress, Georgia Republican Marjorie Taylor Greene delighted in splashing extreme right-wing views all over her Facebook page. There, the QAnon supporter shared her racist, anti-Semitic, and Islamophobic views in direct-to-camera videos, which surfaced before her official election, and frequently reposted conspiracy theories. Now CNN reports that Greene also used the platform to show her support for the execution of prominent Democrats — including House Speaker Nancy Pelosi, who leads the legislative body to which Greene now belongs.
CNN reviewed "hundreds of posts and comments" from Greene's Facebook page: In January 2019, she reportedly liked a comment stating that to remove Pelosi's from office, "a bullet to the head would be quicker." In response to a commenter who wondered, in April 2018, "Now do we get to hang them ?? Meaning H[illary Clinton] & O[bama] ???" Greene apparently replied, "Stage is being set. Players are being put in place. We must be patient. This must be done perfectly or liberal judges would let them off." She reportedly also described the Parkland shooting survivor David Hogg as "#littleHitler" in another comment, and advanced a conspiracy theory about Hogg being a "paid little pawn."
Before CNN published its report, Greene posted a statement to Twitter calling the article a "Fake News … hit piece" published in an effort to "cancel her" and "silence [her] voice." (She makes that claim a lot.)
"Over the years, I've had teams of people manage my pages," she wrote. "Many posts have been liked. Many posts have been shared. Some did not represent my views."
The congresswoman did not clarify which likes aligned with her politics and which did not, however, her Facebook activity goes past mere reactions. In addition to launching a petition to impeach Pelosi for "treason" in 2019, CNN reports that Greene repeatedly broadcast videos — one of them from Pelosi's office — suggesting that Pelosi could be killed for her purported crimes. In addition to flat-out saying that the Speaker would "suffer death or she'll be in prison" for her "treason," Greene reportedly liked a comment that said, "through removal or death, doesn't matter, as long as she goes."
As a follower of QAnon, Greene believes that a cohort of powerful Satanist pedophiles (many of them Democrats) run the world. She is very into guns and stood staunchly by her pledge to keep then-President Trump in office, even after the insurrectionist attack on the Capitol, which was inspired by such rhetoric. House Minority Leader Kevin McCarthy has said he will "have a conversation" with Greene about her "disturbing" Facebook record, but now, calls for Greene's removal — issued in the aftermath of January 6 — are reportedly growing among her colleagues. Illinois representative Adam Kinzinger tweeted that she is "not a Republican" (although, to be clear, she is) and has "nothing in common with our core values." Newly elected Georgia senator Raphael Warnock tweeted that Greene's comments are "dangerous and unacceptable," and noted that "extreme and violent rhetoric only fans the flames of division, and we've just seen how deadly those flames can be."