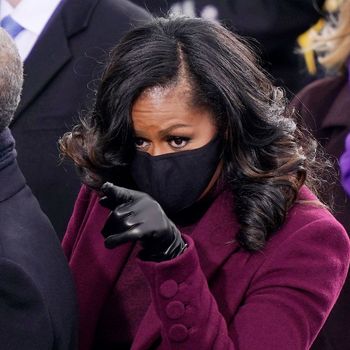 Michelle Obama pairs her smoky eye with a point.
Photo: Drew Angerer/Getty Images
If you've ever put on a Fenty Face, I'm pleased to report that you and Michelle Obama have yet another thing in common. Turns out, some of Rihanna's creations played a part in Mobama's inauguration look, a glorious one we'll undoubtedly be thinking about a lot. Carl Ray, the former First Lady's longtime makeup artist, had been thinking about it a lot, too, weeks before yesterday's events.
"I knew this was a huge moment for women and wanted to give a statement look that honored and celebrated the occasion," Ray told The Cut. "I wanted her to have a powerful beauty look that was classy, bold, and confident; but all of that would also need to be achieved through the top half of her face only." To meet this challenge, Ray enlisted the help of RiRi, The Eyebrow Queen, Dame Pat McGrath, a Bravolebrity, and the creators of the Dolphin Skin trend.
Fenty Beauty Match Stix contoured, Iconic London's liquid gold helped catch the light, and Anastasia Beverly Hills Dipbrow Gel, Brow Definer and Clear Brow Gel shaped and set the brows. Ray then built up and blended out shades from the Viseart 01 Neutral Mattes eyeshadow palette to create a "glammed-up day time smoky eye" to play off the big, bouncy curls hairstylist Yene Damtew created for Obama. He patted Pat McGrath Eye Shadow in Divine Mink to the center of the lid for "a little high-impact pop," and lined eyes with Pat McGrath Labs Permagel Eyeliner in Xtreme Black (don't worry, it's waterline-friendly). Lastly, the top lashline got an extra hit of Fenty Flyliner. "I like to apply this liner on top of pencil liner for a more dramatic look, plus it stays put all day and night."
Top and bottom lashes were treated to coats of Glossier's water-resistant Lash Slick, "in case of wind, or if elements came to play" (both did), and camera-ready Lilly Lashes were added for that final, finishing pop. "For TV, we really need to make things a little more dramatic, so her eyes shine," Ray added. Adding a pointed hand gesture here and there never hurts, either.