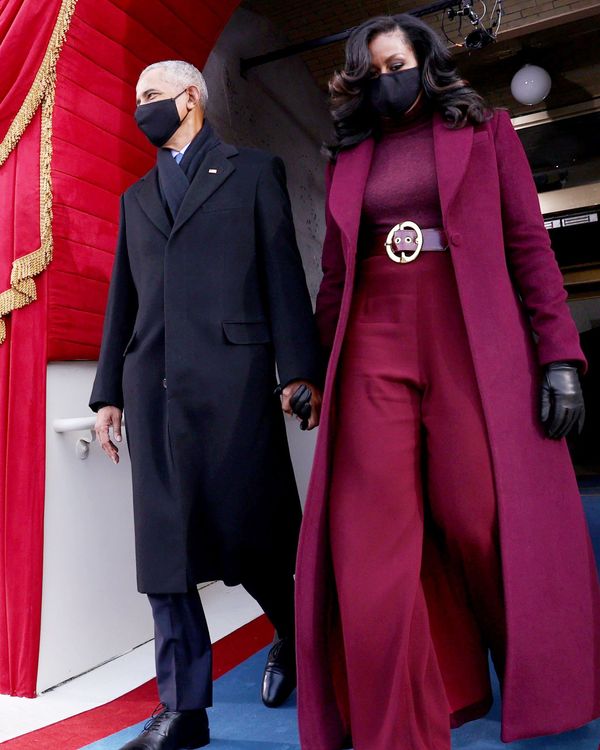 When it comes to dressing, Michelle Obama never disappoints, but today she took things to new heights, arriving at Joe Biden's presidential inauguration in a look that radiated the power, grace, and style she's well known for.
The belted monochrome look in shades of burgundy and plum is by Black designer Sergio Hudson, a longtime collaborator of the former First Lady who has also worked with Rihanna and Beyoncé. She accessorized it with a voluminous blowout, leather gloves, Stuart Weitzman boots, and a silk face mask. Somehow, the outfit has the combined effect of making her look cozy and comfortable, as well as very glamorous and commanding (which I suspect has as much to do with the kind of energy Michelle Obama gives off as the clothes she wears).
So far, the inauguration has been a deliberate moment of fashion diplomacy for the Democrats, a far cry from Donald Trump's ketchup-colored ties and Melania's mystifying Zara jackets. Hillary Clinton and Joe Biden were in American designer Ralph Lauren, while Madam Vice-President Kamala Harris has been wearing exclusively Black designers for all of her inauguration events. Yesterday, it was a camel coat by Pyer Moss, and she began today's events in a full look by Christopher John Rogers. Later, she too will change into Sergio Hudson.
Meanwhile, on Air Force One, Melania seems to have slipped out of her stilettos and Spanx, arriving in Florida wearing flats and a Gucci muumuu, a symbolic moment if there ever was one.