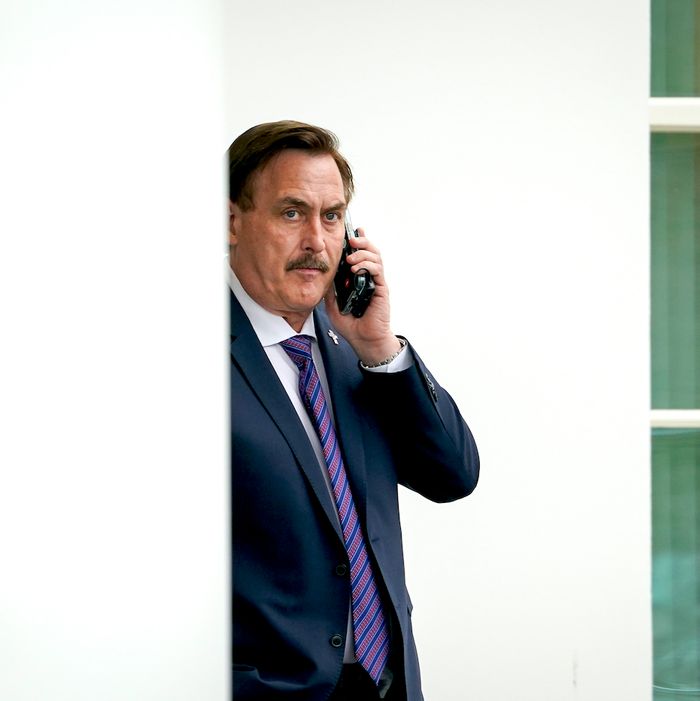 Mr. Pillows.
Photo: Drew Angerer/Getty Images
As you may have gleaned from the frequency with which his name has recently appeared in the non-Fox news, the MyPillow Guy (Mike Lindell) has been having a time. Last week, there was the allegation that the bedding executive entertained a whirlwind romance with 30 Rock's Jane Krakowski. (Both parties firmly deny this.) The week before that, there was the photo of Mr. Pillows marching into a meeting with then-president Donald Trump, holding what certainly looked like plans for a coup. (Just days after assorted Trump loyalists attempted a siege on the U.S. Capitol, no less.) And this week, he has been booted off of Twitter for his repeated dissemination of lies about the 2020 election. When it rains it pours, I guess!
Twitter told Politico on Monday that it "suspended [Lindell] for repeated violations of our civic-integrity policy," and subsequently confirmed that the suspension would be permanent.
As the Washington Post points out, it remains unclear which of Lindell's tweets lost him Twitter access. Probably, the ban had something to do with his persistence in sharing baseless claims of election fraud with his nearly half a million followers. Particularly in the weeks after the insurrectionist attack on Congress, Twitter has taken a harder line against disinformation, finally exiling Trump on January 8. The Guardian reports that the app has since banned over 70,000 accounts.
But Lindell, whom Dominion Voting Systems has already threatened with a lawsuit for his "prominent" role in an "ongoing misinformation campaign," will not be silenced. He has now insisted to several outlets that he has "all the evidence" and will not be "letting the fraud go," despite the effect his sustained support of these conspiracies has had on business. A number of retailers have dropped My Pillow since the Capitol riot, although Bed Bath & Beyond and Kohl's cited low demand. According to some reviewers, MyPillows are not very comfy.
Still, Lindell does not believe his crusade will tank the company's prospects. "The real people don't care" about his personal agenda, Lindell told the Minneapolis Star Tribune, explaining that "pillows are not political." Technically true, although you'd never know it from looking at MyPillow's corporate Twitter feed.