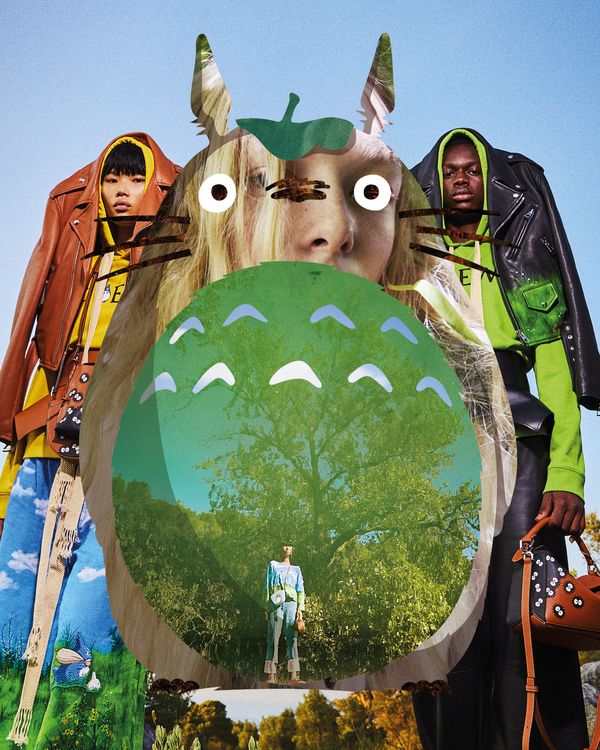 In times of great stress, all you need is to let the world fade away for a couple of hours with some good weed and a nostalgic movie. For me, that's usually a Studio Ghibli flick, like Spirited Away or Kiki's Delivery Service, and I can forget that I'm a responsible young adult surviving on a hell planet. And today brings good news for my fellow Studio Ghibli fans in the fashion set: Loewe released a collaboration dedicated to Hayao Miyazaki's beloved 1988 film My Neighbor Totoro — a story of childlike wonder and the bond between two siblings and their big fluffy friend.
Now you can wear that warm, nostalgic energy wherever you go, with the movie's characters printed on Loewe's classic T-shirts, hoodies, bags, and even biker jackets. Susuwatari, for instance, the mischievous dust bunnies that can only be seen by the two children in Totoro, appear as fluffy pompoms that trim a pair of shorts and hang from a biker jacket, and the fantastical landscapes of the film have been turned into colorful prints.
Loewe and Studio Ghibli share a love of artisanal techniques in their respective fields, as well as a deep appreciation for nature. They want to live in harmony with the environment, and the brand sees My Neighbor Totoro as an ode to preserving that harmony in the most magical way. In a statement, Jonathan Anderson, the creative director of Loewe, added that "the message is one of dreamy serenity and hands-on creativity — of being at one with nature and with one's own inner child — which is especially important right now and, I think, always will be."
See some of our favorite pieces from the Loewe x My Neighbor Totoro capsule collection below, and shop it all here.