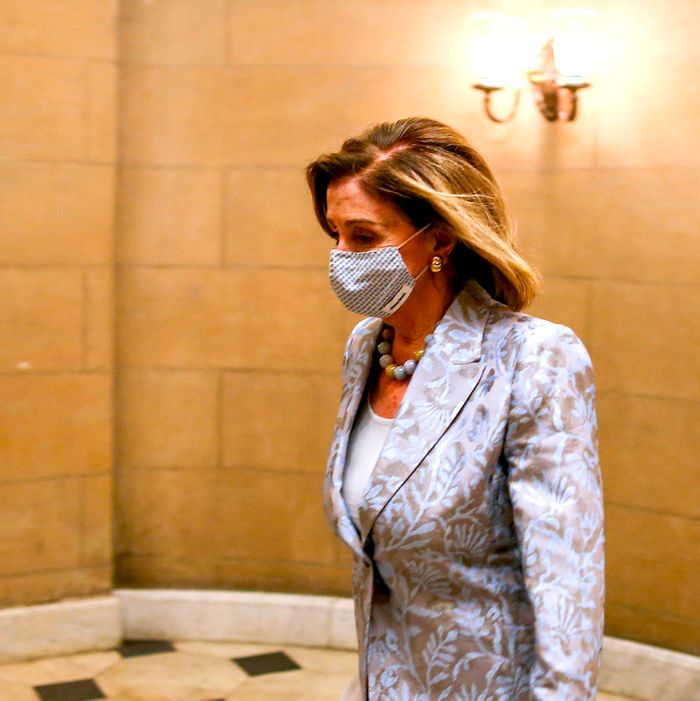 Nancy Pelosi.
Photo: Tasos Katopodis/Getty Images
California representative Nancy Pelosi has been reelected as Speaker of the House, presiding over a sliver-slim Democratic majority, the New York Times reports. At the swearing-in of the 117th Congress on Sunday, Pelosi garnered 216 votes against her Republican opponent's — California representative Kevin McCarthy's — 209.
Currently, Democrats hold 222 House seats to Republicans' 211, with two seats vacant. Democratic Maine representative Jared Golden reportedly voted for Illinois senator Tammy Duckworth over Pelosi, and Pennsylvania representative Conor Lamb voted for New York representative Hakeem Jeffries. Meanwhile, three other representatives — Virginia's Abigail Spanberger, Michigan's Elissa Slotkin, and New Jersey's Mikie Sherrill — simply voted "present." Some representatives missed the vote due to COVID-19 diagnoses; others participated from a "secure enclosure" made of plexiglass.
Heading into the vote, some moderates and progressives alike had declined to say whom they would support, although in a letter to Democrats on Sunday, Pelosi said she was "confident that the Speaker's election today will show a united Democratic Caucus ready to meet the challenges ahead, and that we are prepared to set our country on a new course." In November, a virtual vote of the Democratic Caucus signaled support for Pelosi.
Still, Democrats' performance in the 2020 election did not deliver the decisive majority the party had hoped for, and some of its more centrist members blamed progressives for advancing policies Republicans branded as "socialist." Progressive New York representative Alexandria Ocasio-Cortez, meanwhile, recently told the Intercept that the Democrats need new leadership in both the House and the Senate, but that she doesn't currently see a viable plan to "fill that vacuum." And indeed, Pelosi — who is 80 years old, has served in Congress for 33 years, and became the first woman elected House Speaker in 2007 — has suggested that this could be her final term as leader of the House. With a narrow margin over Republicans, Pelosi "can afford to lose only a handful of Democrats on any given vote," per the Times.
"Our country needs stability right now," newly elected New York representative Jamaal Bowman told the Hill after the vote. Bowman had previously declined to say whether or not he would support Pelosi, but explained on Sunday: "It's really important for the Democratic Party to come together and figure out not just how to govern for the 117th, but going forward for the country."