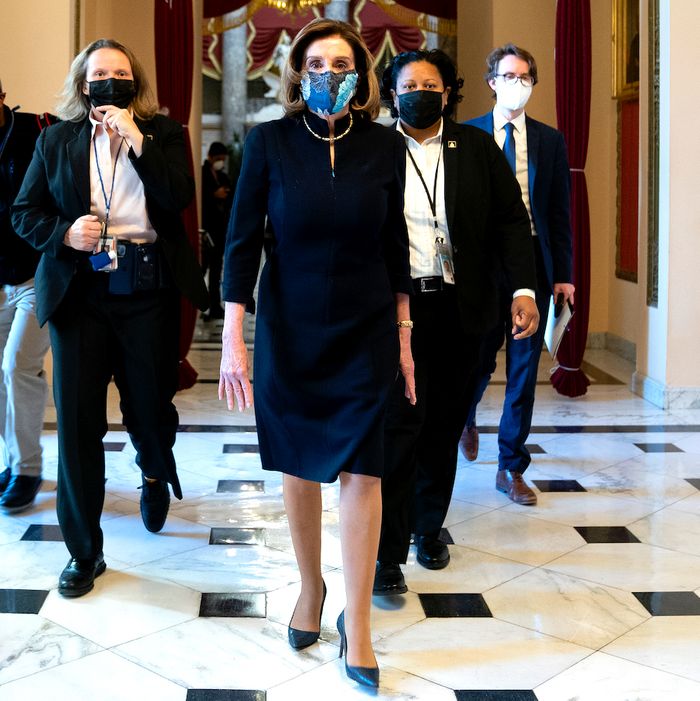 Hello Impeachment Suit, my old friend.
Photo: Stefani Reynolds/Getty Images
Well, well, well, look who it is. Our old friend, Impeachment Suit, back so soon? I personally did not expect to see her again, and after only — what has it been, a little over a year? Was it … last December, is that right??
Indeed it is: On December 18, 2019, Nancy Pelosi hit the House floor in a high-necked black suit accented with an embossed gold necklace. The occasion? The impeachment of President Donald Trump, pt. I, although presumably Pelosi did not know then that there would be a sequel. At the time, the charges were one count of abuse of power and one count of obstruction of Congress, pertaining to the president's efforts to persuade Ukraine to investigate Joe Biden. Here is House Speaker Pelosi at the vote, gavel in hand and Impeachment Suit pressed:
Perhaps a mere 13 months ago, the suit did not read to you as being specifically for impeachments, because it had only appeared at one and who would've guessed there would be another. But today is a historic day. Trump has just been impeached for the second time, a feat no other president has managed. The House voted 232 to 197 — the most bipartisan impeachment vote ever, how does he do it — on Wednesday, with the Impeachment Suit presiding.
Pelosi's office confirmed to People that it was indeed the same outfit, only minus the gold brooch she wore in 2019. Per the Daily Beast, that pin is a tiny version of the House of Representatives' mace, a symbol of "order and authority," two things Trump's insurrectionist supporters tried to subvert during the riots that led to his second impeachment. The first time around, the choice to wear black — as many of Pelosi's colleagues did — was reportedly intended to signal that impeachment marked a "sad" and somber day for the country. On Wednesday, Pelosi reiterated her sadness at impeaching Trump again, saying: "He must go. He is a clear and present danger to the nation that we all love … It gives me no pleasure to say this — it breaks my heart."
And probably the suit carries some of that same messaging today! Still, I am also choosing to read it as a subtle dig at the president; something along the lines of, Hell yes, you know what time it is. But that's just me.