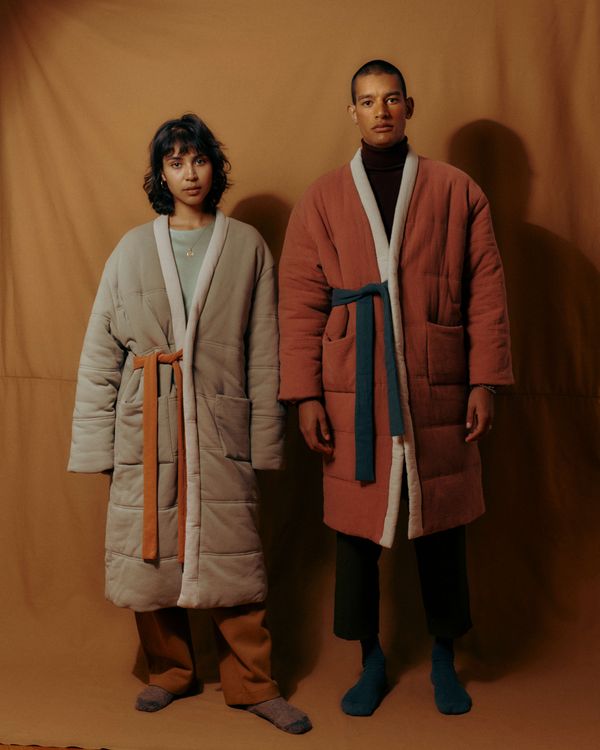 Not until I was forced, for good reason, to stay home for months on end did I truly appreciate loungewear. It's important to maintain an appropriate wardrobe for commuting from the bedroom to the living room! For particularly indolent days, when I can't muster the motivation to put on sweatpants, a cushy robe is a must. Luckily, the "inactivewear" brand Offhours makes a very stylish one. Called the Homecoat, it's essentially a duvet–slash–weighted blanket with sleeves.
The Homecoat had a semi-viral moment a few years back, but I didn't come to admire it until we were neck-deep in the pandemic. Offhours says this robe is the closest you can get to actually wearing your comforter without cutting a couple of armholes in it. Co-founders Rebecca Zhou and David McGillivray noticed that most loungewear options fell into one of three unappealing categories: lacy and frilly, super-old-fashioned, or just not cute (looking at you, Snuggie). So they created something soft, practical, and chic. It's something you wouldn't mind wearing to run a quick errand. In fact, it would be a look.
Since it's made of cotton French terry on the outside and supersoft T-shirt fabric on the inside, the robe feels like a lived-in sweatshirt or tee. The co-founders say it's all proudly made in China, and every Homecoat has a hang loop on the back in red (a sign of good luck in Chinese tradition). There are six colorways, including pastel pink, black, olive, and, most recently, a terra-cotta color called Red Rock. Oh, and 5 percent of all proceeds are donated to the Arizona Wildlife Federation. Shop it below.