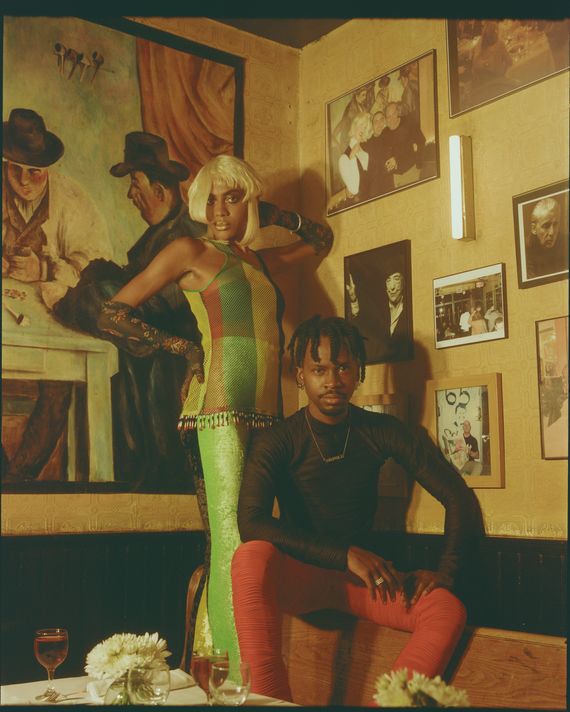 Theophilio's Spring/Summer 2021 collection will leave you inspired, craving a touch of island breeze, and wholeheartedly excited for the future of fashion. At least, that's how it made me feel when I watched the streamed runway show this past September.
Titled "Migration," the video features models and friends of Jamaica-born designer Edvin Theophilus Thompson wearing sustainably-made garments that channel the soul of the island. The looks appear over a video of a Jamaican highway — footage Thompson shot himself, on his way to the airport from his family's home. From the clothing to the beauty choices to the format, "Migration" tells a visual story about Jamaican culture.
Thompson was born in Kingston but moved to America at the age of 9. He's interested in capturing not just the spirit of Jamaica, but also the immigrant experience. And like other growing brands like Telfar, Sherris, and Mowalola, he's part of an artistic community that's helped him build a following. He's even planning to drop a bag and more accessories this year, as Telfar and Mowalola have both done, meaning he's got branding savvy along with an eco-friendly approach and a personal story to tell.
These days, Thompson is surrounded by fashion designers, fine artists, models, writers, and make-up artists, but he hasn't always had consistent creative support. When his family moved to New Jersey in pursuit of the American dream, the young designer found himself struggling to fit in. It wasn't until his freshman year of high school that he finally found his community — a fashion club he and his friends called Cool Kids Crew.
"Our initiative was to come up with themed concepts every week," says Thompson. "Kind of like how the Met Gala has a different theme each year, that was us at school. We would be punk '70s or '80s — we'd explore all these mediums that really got us excited."
Seven years after moving to America, Thompson finally felt like he'd found a home. But halfway through high school, he was uprooted again when his father moved the family to Atlanta, Georgia. The move temporarily distracted him from his fashion dreams, and he struggled once again to navigate a new school. As he developed friendships with other kids who cared about artistic expression, though, he had an idea: He'd grow up to start a fashion brand, and name it Theophilio. The name originates from Thompson's middle name, Theophilus, which means "loved by God." Thompson explains, "I wanted something very timeless and chic that reflects my family's heritage and my cultural background in Jamaica."
After attending school for fashion design, Thompson interned with designer Amanda Uprichard, who taught him the ropes of the Garment District, and Gypsy Sport. By the summer of 2016, he'd decided it was time to debut his first collection, spring 2017, which he called "Melancholy." It was inspired by his experience finding himself in New York, and by the creative limitations he was encountering in an expensive business.
"I really wanted to have a conversation about artists not having a lot of resources, but drawing work from that," he explains. So he reworked deadstock fabric — denim and fabric from old poplin shirts — and staged the show in a rented industrial garage in Brooklyn. "The space we chose really spoke to us practicing sustainable clothing and that New York edge."
After the release of the brand's first collection, Theophilio started to gain editorial attention. Indie publications requested his clothing; fashion editors wanted to be the first to wear the brand on the streets of NYC. His dedication to his craft has landed him with an i-D cover and features on Teen Vogue, Vogue, and Essence. And as a one-man team, Thompson has been dropping a collection every September/October for the past four years.
Which brings us to this summer's collection, "Migration." The clothes have both elegance and edge. Bright colorful fabrics reference dancehall culture, structured uniform-like pieces represent Thompson's primary-school days, and the models' sculptural hairstyles reach back to late-'90s films like B.A.P.S and Babymother. "Sharing my designs in a story about immigrants is very important to me," says Thompson. "One thing for me is to put Jamaica on the map. Jamaica doesn't just stop at reggae music and jerk chicken, rice, and peas. The community, the vibrant music, colors — no matter if someone passed away or they have triumphed over something, there is always a celebration of life."
Moving forward, Thompson wants to grow the brand without losing his connection to his past — or the sustainable practices he built out of necessity. He hopes to create a system that will allow his customers to recycle older pieces in his collections in return for a discount on something new. "All of these luxury brands and big factories in New York just throw out clothes that they don't use or sell and samples that don't work," he says. "I think we can definitely put that back into the environment in a profitable way, to cater to a more sustainable environment for ourselves and for our future generations."