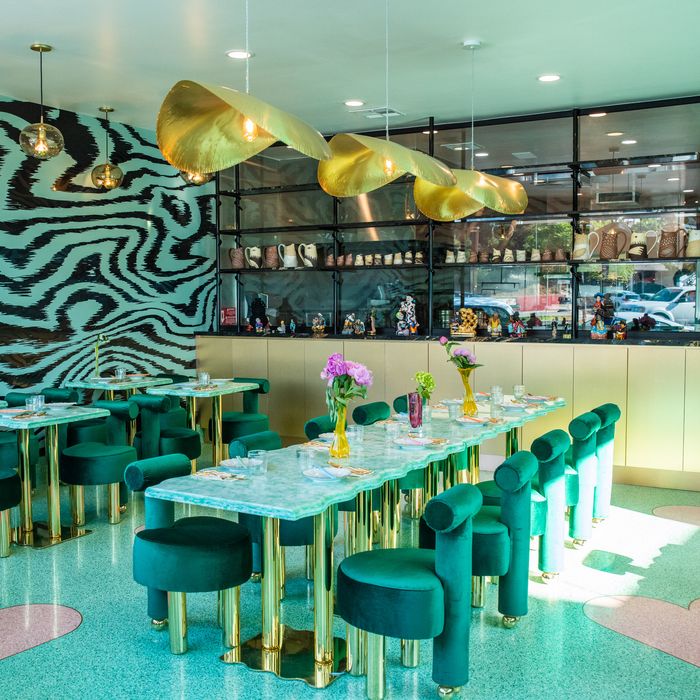 Opening a restaurant during a pandemic is a daunting task, but Opening Ceremony's co-founder Humberto Leon is up for the challenge. Along with his mom, Wendy (more affectionately known as popo, which is Cantonese for grandma); sister Ricardina; and brother-in-law John Liu, Leon soft-opened Chifa, a Chinese-Peruvian spot in Eagle Rock, Los Angeles, at the end of November.
Named after the Peruvians term for Chinese restaurants, Chifa represents the family's unique mix of cultures. Popo Wendy immigrated from China to Peru, where she owned a restaurant in Lima before moving again to Los Angeles. The menu includes Peruvian chicken and fries, traditional zhongzi (aka sticky rice dumplings), and a nod to Liu's Taiwanese heritage in the form of a three-day beef noodle soup.
Chifa opened the week that the city of Los Angeles shut down outdoor dining due to a growing second wave of COVID infections. That timing would be disastrous for most places, but Leon and family were prepared. "We took over the space two years ago and began renovations immediately with plans to open this year. By February, when the pandemic started, Ricardina began thinking about takeout and outdoor," explains Leon.
Pivoting to outdoor dining meant creating an entirely new experience. The interior is filled with green and gold (lucky colors), and the same shades are now mirrored in the outdoor experience. Instead of fragile plates and glassware, the exterior space swaps in more sturdy marbleized green metal bowls and rubberized utensil holders from Copenhagen-based design group HAY.
Opening a restaurant after shuttering retail stores isn't as big a pivot as it might seem for Leon — food has always been a part of Opening Ceremony's events. In 2013, at height of the cronut craze, the brand handed them out as snacks at their debut runway show; a show the following year took place in front of a melting chocolate wall.
And in the same way that Opening Ceremony embraced collaborations with like-minded artists, Leon is bringing some of his favorite brands to decorate the space. The wallpaper, designed with Calico, is inspired by the idea of heartwood — the densest inner part of the tree — and represents love. Inside, there's a mini art installation of sculptures by Charlie Mai that feature the traditional Chinese figures commonly seen in Cantonese household shrines, except they're wearing the likes of Dries van Noten, Telfar, and Gucci. The water pitchers, made with local Los Angeles ceramicist Linda Hsiao, nod to traditional Peruvian ceramics.
Even the dishes have collab elements: While the standout is undoubtedly Popo Wendy's soy-sauce chicken (which she served at Kenzo's last NYFW party to a crowd of hundreds), Leon also tapped Butcher Girls to create fresh lap cheong (Chinese sausage) and Nunchi to create a very Instagram-friendly corn-shaped dessert.
So far, the opening has been a success. "On our first weekend, we bought enough food to last the three days and it sold out the first night," Leon says. Given the wave of xenophobia against Asian Americans and the alarming April 2020 statistic that 50 percent of the Chinese restaurants in the United States had closed due to the pandemic, this feels like a ray of hope. "We focused on creating a sense of home in our restaurant. It's the food I was raised on and what [Chinese Americans] miss because they can't see their families. We're being true to ourselves with authentic Chinese food that's not Westernized and our customers, Asian or not, recognize that."