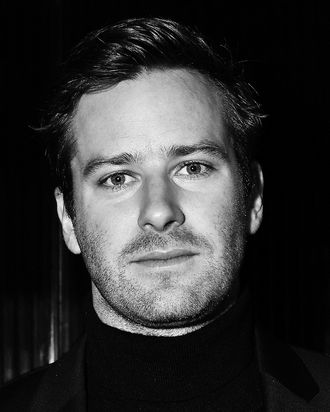 Armie Hammer.
Photo: Mike Coppola/Getty Images
Another woman who dated Armie Hammer has come forward about the actor's allegedly violent proclivities: Paige Lorenze told "Page Six" that Hammer branded her, purposefully left her covered in bruises, and also talked about "consuming her," in addition to emotional manipulation.
Lorenze, a 22-year-old college student, reportedly dated Hammer, 34, for four months in 2020. (Paparazzi photos put them together in December.) During that time, she told "Page Six," the Rebecca star "built up [her] trust to ease [her] into darker things."
"He would compliment me and tell me things that would make me feel on top of the world," she recalled. "[He] knew what he was doing and knew how to get me to do these things. He was smart about it."
Lorenze says Hammer would physically bruise her during sex, then encourage her to "show off" the marks and "be proud of them." She says that, when she asked, "'How am I supposed to see other people when I have bruises?' He said 'That's the point.'" According to Lorenze, Hammer sent people nude photos of her she didn't even know he'd taken, and on one occasion, carved an "A" into her pelvis with a knife.
"I kind of sat back and let it happen," Lorenze told the tabloid. "I didn't really know what to do or say … As sad as that is, I wanted him to like me and feel like I was down for what he wanted."
In a statement to "Page Six," an attorney for Hammer said:
These assertions about Mr. Hammer are patently untrue. Any interactions with this person, or any partner of his, were completely consensual in that they were fully discussed, agreed upon, and mutually participatory. The stories being perpetuated in the media are a misguided attempt to present a one-sided narrative with the goal of tarnishing Mr. Hammer's reputation, and communications from the individuals involved prove that.
Lorenze told "Page Six" that she had no experience with BDSM before Hammer, who led her to believe theirs was "a traditional BDSM relationship," although she now sees it as coercive. And when he allegedly mentioned "consuming her" — telling her he wanted to remove and eat one of her ribs, for example — she says she "thought he was kidding. It didn't register to me this was something he was serious about until he brought it up multiple times, and seeing other women come out with the same thing. And then it was like, 'Wow, this is really scary.'"
Meanwhile, on social media, screenshots of the actor's alleged DMs have been circulating for weeks, many of them detailing a purported desire to eat the sext's recipient and/or drink her blood. (Hammer said in a statement to Variety that he would not respond to such "bullshit claims," and called them "vicious and spurious online attacks.") And earlier this month, Courtney Vucekovich — another of Hammer's alleged exes and the founder of an app called Flashd — reiterated similar experiences to "Page Six," and described what she says was Hammer's habitual psychological abuse. Hammer did not respond to Vucekovich's allegations. Earlier this month, he stepped away from a new movie project, claiming he wanted to spend more time with his children.
For her part, Lorenze says she broke off her relationship with Hammer when, eventually, she began "to feel what he had done and what he was doing to [her]."
"It takes a long time to really understand what happened and how someone manipulated you," she said. "It's disgusting that he coerces women into these situations. It's dangerous."